How to Bump Up The Value of Your House Before Selling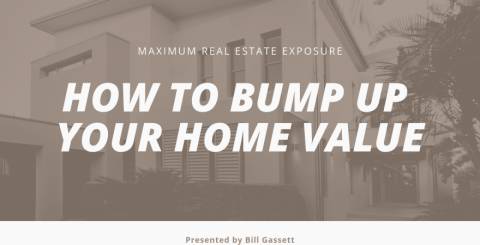 How to Increase Your Homes Value
Are you planning to sell your home? If you are planning to sell your house, you may just want to start to think like a buyer instead of a seller. Why? It is simple - as a buyer, you are more likely to look at a home or property in a critical way.
Ask yourself what home improvements YOU would make if you were to purchase YOUR home today. When you bought your home, you probably looked at differently then you do now. In fact, you probably saw room for improvement when you first looked around the property that is now your pride and joy.
Buyers will do the same thing when they see your home for the first time. This is why you should look around your house with a different set of eyes.
As an experienced Massachusetts Real Estate agent, I have seen my fair share of mistakes when it comes to home improvements that increase value. For some reason, many sellers think that everything they do to their homes adds value. This thinking could not be further from the truth.
What Home Improvements Will Add Value to Your Home?
These are the areas of your home you should check out before putting your home up for sale:
Kitchen
Bathrooms
Outside areas
Front door and porch
Making certain home improvements may even make or break a sale. Bathrooms and the kitchen are both crucial areas of any home. But, don't forget checking your lawn and making the front of your home look inviting.
Easy Home Improvements in the Kitchen
Updating your kitchen may cost less money than you think. A new kitchen will always make your home look more attractive and contemporary. It is one of those areas a buyer will look more critically at as it is the most likely room in the house he, or she, will be spending most of their time.
There is a reason why people call the kitchen the heart of the home. Kitchens are also the first place most people will think of improving when it's needed.
Contact a local contractor and see what they think. Replacing the entire kitchen may not be necessary. However, consider replacing the countertops and perhaps even the appliances. Doing so will give the kitchen a completely new feel. New countertops will immediately make your kitchen seem more contemporary.
Granite is one of the most popular countertop choices. You can find some choices that are reasonably inexpensive. An appliance upgrade to more energy efficient units is another good idea. After all, we all like to save money on fuel bills in the long run.
How Clean is Your Bathroom
You may not notice the bits of mold in your bathroom, but a potential buyer most certainly will. A clean looking bathroom, or bathrooms, can quickly sell a home. Believe it or not, we spend a surprising amount of time in our bathrooms, and buyers like them to look nice.
Replacing showers and bathtubs may be over the top. New tiles are, however, a cost-effective option if you would like to achieve a quick sale and get an excellent price for your home.
Also, consider fitting low- flow shower heads and tabs. Yet, another energy saving idea which could help you to sell your home. Invest in some new towels in vibrant colors. This is all about lifting the overall look of your bathroom and make it look more inviting. You want a buyer to think that they can walk in and use the bathroom right away.
Out Side Areas of Your Home
When you decide to sell your home, make sure both your front and back yard look nice and neat. Cheap bedding plants are one way of doing so. You may even want to invest in some hanging baskets and colorful planters to achieve a fresh look. Take a look at your lawn as well. Does it have any brown patches or moss growing in it? If you have brown spots in your lawn, you should remove them and sow some fresh grass seeds.
Rake your yard for moss, and aerate it at the same time. Both will make your lawn look a lot healthier. You may even want to consider painting fences and staining any decking to give the outside areas of your home a well-maintained look. Quite often the things you neglect around your home could cause problems at the home inspection. In fact, the issues may be large enough in some buyers eyes that they back out of the sale.
The Front Door and Porch
Apart from your front yard, the first thing a buyer will see is the front door and porch. This is where the entire buying process starts. Making these areas of your home seem more attractive can be simple with a little effort on your part.
This is a really simple way to make your home look more appealing. Should you buy a new front door? That may look a bit fake. But, it is a good idea to take a look at your door hardware such as handles, bells, and nobs. Do they look dated at all? If they do, replacing them is cheap and will instantly add value to your home.
Make sure your porch is clean and inviting. A couple of planters packed with seasonable flowers say welcome to our home. Of course, you don't need to leave them there. Take them with you to your new home.
Home improvements do not need to be expensive, but the right ones will undoubtedly add value to your home. Think about it like this. You are offering a buyer a turn-key solution. You want your home to shout out " walk in and live here." That is what pre-sales home improvements are all about.
Final Thoughts
Making these improvements will undoubtedly make your real estate agent happy. Realtors love it when their clients pay attention to what it takes to sell a home. It is also a proven fact that homes that look their best sell quicker and for more money.
It sounds like it may be time to do what you can to increase your properties value right? Best of luck getting your house ready for the next buyer!