Gaming Chair 2019 - Buying Guide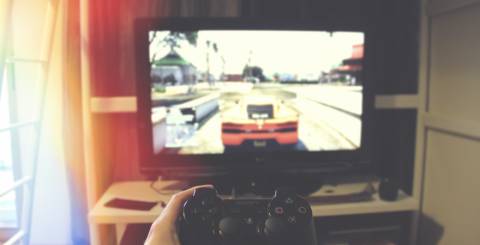 https://cdn.pixabay.com/photo/2016/11/21/15/08/computer-1845880_1280.jpg 1.333x
Looking to buy the gaming chair? You're standing at the right place.
The gaming chair offers an immersive media X-perience as they generally put you closer to the TV and therefore closer to the action.
Although their heritage stems from video games, "video game" rockers aren't just for avid video gamers. Roll on the back and watch a video, rock out to your favorite music, play board games on the floor or (gasp!) read a book.
Following are the key things to keep in mind when buying your gaming chair.
Comfort
First and foremost video rockers are chairs and all other features are pointless if the rocker isn't comfortable enough to sit in for multi-hour game sessions.
Having good back support and posture are legitimate ergonomic safety concerns so following are some points the consider.
Padding thickness varies from rocker to rocker but is often made of regular foam while others are built with memory foam for a more contoured fit.
The "rock-ability" of a video rocker is based on weight distribution so people of different weights and heights (e.g. kids vs teenagers vs adults) may have different X-periences even with the same model.
Headrests and armrests are available on certain video rockers for X-tra support and comfort.
Higher end video rockers geared towards racing simulation games have moving parts that are adjustable much like how you would adjust your car seat. These also include mounts for steering wheels and foot pedals.
Construction
Video rockers are upholstered in everything from cloth, vinyl, suede, leather and even polyester/lycra mesh for breathability. all of which are easy to clean with a damp cloth and generally quite durable.
Sound
Audio Out
Rockers with integrated stereo surround sound systems typically include a pair of built-in speakers (left and right) placed to hear the headrest along with a subwoofer for bass (referred to as 2.1) near the seat. More X-pensive models have an additional pair of speakers and are noted as 4.1 systems.
Audio In
There are 2 flavors: wired and wireless.
Wired
Wired video rockers require RCA or standard 3.5 mm cables from your AV system. They tend to be less X-pensive and have more predictable sound quality but the flip-side is X-tra cabling. You can also purchase 3rd party wireless systems from X Rocker, rocket fish, and Logitech that achieve the same untethered benefit if you decide you want to upgrade later.
Wireless
Rockers with wireless sound systems receive an audio signal via a transmitter connected to your AV sound system, game console or media player.
Transmitters can eat through batteries quickly so check if it can be powered with an AC adapter if one is not already included (inexpensive and readily available at Radio Shack). The sound quality from wireless rockers is highly dependent on the speakers themselves, interference from other wireless devices, battery strength, and distance to the transmitter but reviews have become increasingly positive over the years.
Auxillary Audio
Headphone jacks are convenient for not disturbing family and friends or for plugging in your own high-quality headphones. Also common are secondary audio-in ports for DVD players and iPods.
Vibration
Want to feel yours in the game? Several video rockers on the market include rumble or vibration that sync every shake and rattle of X-plosions, gunshots, and tackles in your video game or movie.
Portability
Unless you have a separate game room, your living room has a futuristic theme, or you live in a college dorm, odds are a video rocker isn't going to match your decor. If you plan on moving your rocker in and out of storage you may want to factor in portability. Look for the size and weight well as whether it has handles for easy carrying. Also, look for video rockers that are foldable.
Compatibility
Since they use standard audio inputs nearly all video rockers are compatible with the major game consoles: Playstation, XBox, Wii and your home theatre.
Warranty
Warranties typically cover 14 – 30 days for returns along with a manufacturer warranty lasting 1 year. Given these are electronic devices that get moved around quite a bit it's advisable to evaluate X-tended warranty. In particular, note that vibrating rockers are driven by a motor and motors inherently have the tendency to wear out before their electrical counterparts.
Price
Depending on features and construction quality, video rocker prices will range from $50 barebones bargains up to $400+ for a high-end system. There are excellent gaming budget chairs to be around $ 150- $ 200.
Miscellaneous
Other nifty features to look for include cup holders, storage pockets and daisy chaining multiple rockers together to share sound input.