Freelancer's Daily Coffee vs. That of a Dependent Employee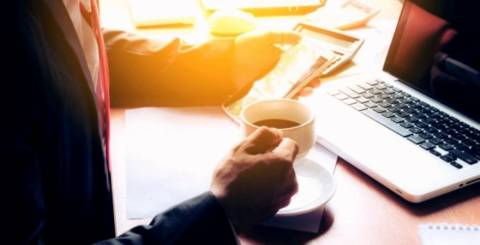 https://image.freepik.com/free-photo/close-up-image-of-business-man-in-shirt-suit-drink-coffee-and-check-time-on-cellphone-male-freelancer-sending-e-mail-after-work-on-laptop-computer_2361-233.jpg
An Independent Responsibility
As a self-employed entrepreneur, you are the only boss of yourself and your time.
Your lookout is no more a restriction. Who wouldn't like to loosen conditions of wearing favourite pajamas 24 hours in round or beloved indoor trousers that are nearly falling apart with the T-shirt from the nostalgic 1980's music show? As an independent agent, you are independently responsible for your appearance.
"Eat As Much As You Can But Do Not Polish Off Your Plate All At Once"
Flexible working hours do not suggest that you are unproductive from dawn to dusk; rather that you control your daily portion of work. You only need to supervise this daily portion yourself. With this flexibility you can easily collect your children from school and take your spouse out for a meal and visit a fitness centre during "office" hours; hence, avoid the influx of people and the peak-hour tragic on the road.
You Decide On the Price of Your Work
Freelance working entails your decision of how much to charge for your time input. Lifelong hoping for the pay rise that may never meet reality shall not bother you anymore. Gradual proficiency and widened portfolio include some promise of higher earnings, which can significantly multiply your income as much as you need.
Time And Place Are No More Rigid Conditions
Has it ever crossed your mind that you would rather live elsewhere but you remained on the same spot due to your job and your family obligations? The freedom of self-employment allows you to move with your family or on your own to whichever corner of the world you wish. Provided that you possess a mobile phone, a computer and an access to electric communication, choose to reside at the South Pole or Hawaii while your fruitful freelancing business keeps going. Your home is your office. Moreover, you can be relishing your scone and a mocha latte in a café whilst generating a phenomenal profit.
"You" Comprise the Most Valuable Input
Everyone has once reminisced about the advice from own parents that "nothing in life is free", and that should it sound abnormally good to be true then perhaps it is. Speaking of freelancing, the costs are minimal, as any broader analyses will tell you. Chief facilities for your business comprise a computer and a printer, eventually a fax and a scanner. After you have provided all essential equipment to become a freelance worker, the greatest expense will be your time and your effort. How much do you value yourself? This shall be the most decisive part when no one but you has to determine the price of your time and effort input.
Do Not Polish Off Your Plate All At Once; What If There Will Be No Cake Tomorrow?
Now you may wish to reflect upon one side information hidden in the formula above that when it sounds too good to be true then it has to be. Try not to leave your current employer with a notice in an instant just because you see yourself making a profit of $10,000 next month. Vice versa, proceed step by step to achieve generating the income you want. The right moment requires that you find yourself making at least as much as you receive in your full-time job and that the supply of work in your freelance career comes in sensible abundance. Only then you may opt for freelancing full time and quit your dependent employment. As long as you do not "sleepover" you are likely to see this happen much faster; therefore, do not let anything to scatter your motivation. This is the living and money that are not leaning on the story of a fairytale. Then the only investment turns out to be the volume of time you agree to pay.
So Why To Care For Market Growth, the Promised Field of Outsourcing and Well-balanced Approach?
Up to this very moment you might have been unaware that the "playground" for freelancers is growing ever faster and also the economists predict the future markets to pursue the same speed. From there, fabulous freelance opportunities hand in hand with income can be derived. As a freelancer, you pose a flexible manpower for startup or other outsourcing companies. If you find yourself stuck in the middle of nowhere, few "sips of fresh air" shall bring more life into your veins - check, for example, tips on discovering your first freelance gig by Michelle Laurey that shall raise your natural aptitude.
The freedom of a freelancer actually translates as "responsible independence".