An Easy Way to Run Windows Apps on Your Mac: Parallels Desktop
If you have been using a less effective software to run Windows apps on your Apple OS X desktop, you can agree with me that the whole process is quite mind-boggling. Running Windows on your Mac is not an easy task: it requires the use of a powerful virtualization utility for it to succeed. One powerful virtualization software is Parallels Desktop which offers a complete integration between Windows applications and OS X systems. The purpose of this program is to run Windows apps on a Mac without unnecessary delays. 
Features of Parallels Desktop
Windows Desktop and Single App Modes
These are the modes that you use to run the program on your machine. The Windows Desktop mode allows you to use your Mac like a real Windows system where you open a complete Windows system on your OS X computer. When using this mode, you can drag files between the OS X computer and the Windows computer. On the other hand, the Single App mode allows you to access one Windows program, like Excel, at a time. While in this mode, you can open Windows programs like they are actually OS X apps.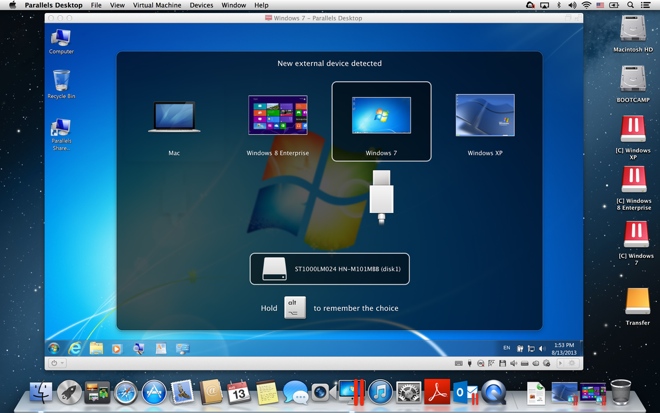 New Virtual Machine Wizard
This feature is important when getting started with Parallels Desktop. It allows you to download and install a copy of Windows on your OS X desktop. If you want to transfer an existing Windows package on your Mac, you can also use this wizard. It allows you to download and install a transporter utility which helps you migrate your existing Windows files and applications via a portable disk or across a network. The wizard also comes with a Boot Camp that you can use to import a Windows system on your Mac. In addition, the wizard allows you to download some versions of Chrome, Android, and Ubuntu. If you want to access your Mac's recovery partition which has an installable OS X version, you can as well do so with the help of the wizard. 
Parallels Toolbox
This is a standalone application in a Parallels Desktop and it consolidates 20 common tasks into one menu bar window. It basically makes these tasks easier to find and use in this program. When you add this feature on your Parallels Desktop, you can perform a number of tasks with just click. Some tasks that you can perform with ease include; downloading & converting videos, muting the microphone, recording audio, locking the screen, taking screenshots and archiving files. 
Pros
- Simple and easy to set up.
- Top-notch performance.
- Runs Windows, Linux, Android OS X and other virtual machines.
- Myriad of options for opening Windows apps on Mac.
- Deep integration with OS X and its menu.
Cons
- Only runs under OS X.
- Control center lacks more contextual menu. 
Price and Parallels Coupons
The price depends on the available versions: Standard edition, Pro Edition, and Business edition. The Standard edition costs $79.99, and the price doesn't include upgrades to the future versions. The Pro edition is priced at $99.99 per year, and it includes free upgrades to the future versions and access to the Parallels Access remote desktop service. The Business edition is subscription-based and comes with centralized management features, cloud services like Box & Dropbox and 24/7 support. Parallels Desktop coupons are available online or through the company's newsletter. Students can save 50% on the new Parallels Desktop 12. Other customers can enjoy holiday deals and 15% off on the full license with coupon codes.
In conclusion, Parallels Desktop is the most efficient software for running Windows on Mac. It allows you to use Windows apps on your OS X computer without unnecessary delays. It is also cost effective as I said: there are packages that suit your budget and also some deals and coupons.