The Do's & Don'ts of Corporate Gifts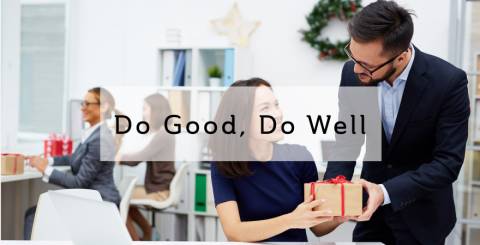 Today corporate gifting is very popular amongst the big companies and for a good reason. But, there are a lot of things that you need to keep in mind in order to succeed in the corporate gifting scene.
The first rule of corporate gift items giving is, that it's not a personal gift. So, the kind of gift you give will directly reflect on your business, and this is a very crucial point that you need to keep in mind. The client management practice has a certain way to it, and once you get the groove, your business is sure to benefit exponentially. Here are some of do's and don'ts that will help you in your journey.
Do's
Look at the company gifting policies
If you are planning on gifting to an existing or potential customer, then be sure to learn about their company's corporate gifts policies as there might be things that they do differently. Many banks, auditing firms, and multi-national companies have strict rules on corporate gifting. Some of the most notable are as follows:
Some companies have a mandate that you can't accept a gift unless a witness is present.
The value of the gift has to be within a limit.
Many government department and affiliated agencies do not allow accepting gifts at all.
It is always a good idea to ask your client upfront about their gifting policies if they have a 'No Gifting' policy then at the very least they know that the thought was there.
Gift on the completion of a big project or on a major festival
The receiving of gifts is even more joyful when a big project has been completed or on a festival. Everyone loves to celebrate, and project completion or festivals are a good reason to celebrate. Giving the employees can be a way to say ' Thank You for your hard work', it also improves brand loyalty. Gifting on festivals is also appreciated as Diwali gifts are the most prevalent in the corporate sector.
Have them professionally wrapped
The excitement of receiving a gift can be increased ten folds by simply being careful with the presentation. Getting a gift professionally wrapped also sends a message to the receiver that how much you value them.
Don'ts
Give lavish and intimate gifts
One thing that you always need to keep in mind is that these are corporate gifts, you can't go overboard with the budget or get too personal. Gifting excessively personal gifts can make the receiver feel awkward. Try to avoid gifts like jewelry completely and stick to the basics, like dried fruit baskets, sweets, and chocolates or even wine are some excellent options.
Guess the name of the recipient
Getting someones to name wrong in an email is bad enough, but at least it is forgivable. Getting it wrong on a gift is just not an option, this will make the recipient embarrassed which is totally opposite of what you were going for. Go the extra mile and make sure you spell their name correctly if you can even get the accent markers right then that would be cherry on tops like René or josé.
Just make sure to follow these, and you will be set to give the best corporate gifts. There are many choices when it comes to corporate gifting but try to keep it neutral, here handicraft items are an excellent choice as they are useful and also just personal enough to not cause any issues. There are many advantages to giving corporate gifts so don't be hesitant, go ahead and boost your businesses success in the blink of an eye.
Similar Articles
Currently, goods and services promotion is one of those must-have basics of a successful business. Even if you produce the best product in the world, no one would ever know about it unless you incorporate promotion as a routine activity into your schedule.
YouTube is one of the best platforms that you can use to engage an active audience over a certain subject. For some years now, public speakers have been using YouTube to sensitize the public over certain things.
Successful food and beverage (F&B) public relations (PR) goes beyond communicating the best tastes and prices, but a firm understanding of the underlying relations of F&B with culture, language and religion.