A Comprehensive Guide to Modular Kitchen Designs and Price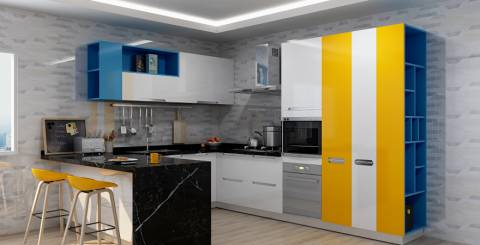 The kitchen is an important part of our home and that's why it should be perfect in every sense. You have to take care of its looks and functions. When you decide to upgrade your kitchen into something modular, you have to keep some important points in mind.
The modular kitchen itself is a new and innovative solution for traditional kitchens. It's a solution that everyone loves to follow. But when it comes to deciding the modular kitchen price and design, it becomes very important to make some crucial decisions. When you go to buy furniture for your cooking space, you find many expensive options. But at that time, it becomes your duty to keep everything up to date and maintain a budget.
While deciding the price of your modular kitchen, keep the following factors in mind.
Kitchen Size
The size of a kitchen can be U, L, parallel or island, and deciding the same affects the price of your modular kitchen. You have to identify the size, decide the fit and calculate the overall price. There are so many options for the same so choose wisely.
Cabinet Material and Finish
Cabinets finish are found in several materials like acrylic, polymer, wood, laminate and more. Where acrylic and laminate are preferred by most of the people. However, acrylic cost a lot. So for a better and inexpensive look, choose laminates. You can also choose the material while keeping heat and humidity in mind.
Accessories
The accessories will define the overall home interior design and that's why you must choose them wisely. For the kitchen, don't go for re-shopping and have a budget. Pick something that will look good, fits in your kitchen and is functional.
Countertop and backsplash material
It is very important to give a neutral and high-end finish to your countertop. You must choose it wisely and keep its water-proof and heat-resistant nature in mind. The same you should keep in mind while choosing the backsplash. You can go for glass, metals and stone for an interesting look.
Appliances
Kitchen appliances is another factor where you have to spend a lot. Therefore, choose something that you need. The build-up appliances are more expensive so avoid them if you have a budget.
Whenever you are designing a modular kitchen for your home, choose the right material for it and avoid the costlier materials. Investing in quality can help you to save a lot. Keep the functionality in mind as it defines the real nature of a modular kitchen.
Other elements that will affect your kitchen style and budget are.
Layout
Choose a layout that promotes smooth work.
Kinds of Storage
You can't complete your kitchen without good storage space. Therefore, don't miss this point out and have drawers, cabinets and more.
Golden Triangle
Define the ergonomic form of your kitchen. It should give a pleasing look and maintain an expensive look.
Colour scheme: Make sure to blend two colours to build a better modular kitchen. You must choose a better colour scheme and good quality colour so that you can make your kitchen look better for a longer time. Using two colours always gives your kitchen a better look. Make sure when you think of doing your kitchen always go for modular kitchen so that you can get the easy installment and hassle-free experience there is no need for carpentry work to take place at your home. 
A modular kitchen that is styled in a better way can help you to save a lot of money. Just keep the size of the kitchen, overall home design and budget in your find, and style smartly.