Compost Food Waste For A Healthy Environment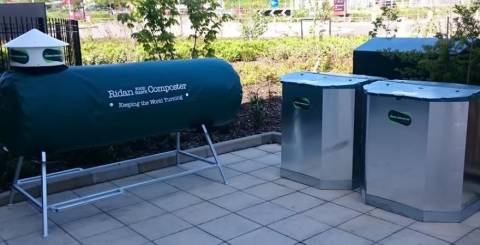 Food is the basic necessity of any living organism. But we also often come across food that are wasted on everyday basis. The best way to use the waste food somehow is by composting it. In fact, composting food waste has many advantages. If you are fond of planting, then you can make it healthier by composting food. The best thing is that you do not even have to exert a lot of effort to do that.
Before we dig into the discussion of the ways to recycle waste food, a better idea is to find out the reason why we may want to do this. You might have this question in mind that if the food waste is biodegradable, then why there is any issue with simply putting the waste food in the garbage bin and letting it to get decomposed at the landfill.
If you are familiar with the techniques of basic home composting, then you also must be knowing that coffee grounds, fruits, egg shells, grains, vegetables, leaves and grass clippings come under the compostable section. However, the food items that you must avoid putting in the composting bins are dairy, bones, meat, and fats. In fact, no matter those are school food waste items or commercial food waste items, waste food can be recycled. But before you proceed further, you must know what is the necessity of recycling waste food.
Composting is also called as a natural way to recycle. It can also be called as a biological procedure of disintegrating the organic waste like the manure, kitchen waste, grass trimmings, worms, leaves, newspaper, coffee grounds, and many more. These are broken up into the humus-like substance with the help of numerous micro-organisms like fungi, bacteria, actinomycetes, all in the presence of oxygen.
Composting can be described as a way of nature to recycle each of the materials that are biodegradable. We will find it in our daily life, but to make the process shorter. But we need to make efforts to ensure that it comes up with significant results. The best thing about it is that it can help the entire society to experience a healthy living.
It has been seen that the composting of food waste is much more as compared to composting any other kind of organic matter. It needs the apt ingredients to be mixed so as to come up with healthy soil which is appropriate for planting.
However, while continuing with the process, we also need to keep the fact in mind that apart from food, the process also involves Nitrogen, Oxygen, Hydrogen, and Carbon. For a better outcome, it needs to be balanced.
If you eat animal meat, and look for composting it, then you must be aware of the fact that those meat are harder when it is about composting. If the animals are non-vegetarian, then the meat will be even more harder. Therefore, the period it takes to decompose it is much more than that of the vegetable trimmings. The other thing about decomposing meat and even dairy products is that they produce foul smell, thus, need to be buried deeper. It will also help you to maintain a good relation with your neighbors and also not bother anybody who passes by.
Therefore, if you want to opt for such process of composting, then get in touch with a reliable provider. There are many companies these days that offer such services. All that you need to do is to find out the company that can help you to get so.
So, if you think your daily food is getting wasted, do not just throw it anywhere, and compost it for a better purpose.