Business Cards 101 - Things You Need to Know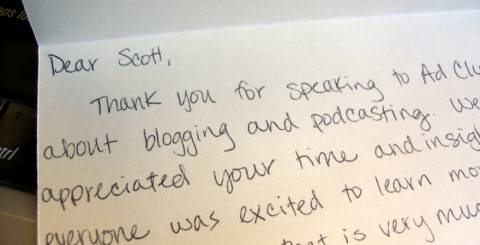 Sending thank-you notes to your customers or clients is a great way to show that they matter to you and to your business, and a handwritten note sends an even stronger message and can further strengthen your relationship. Here are some things to consider when writing personalized thank-you notes for your business.
Make It Personal
Image via Flickr by scottfeldstein
The biggest benefit of a handwritten thank-you note is to create a personal connection with the recipient. Whether you're saying "thank you for your business" or "thank you for attending this conference," be sure to mention personal details about the interaction you had. Make a reference to something that was said or discussed during your visit. While business thank-you notes should be kept professional, they should also show that you had an interest in the conversation.
Make It Appreciative
The interaction you had with the recipient made an impact on both of you. In the thank-you note, write about how the recipient impacted you. If you're writing to thank a customer for a purchase, express gratitude for his or her decision to buy from you. If you're writing as a manager to an employee, express how his or her efforts helped the team as a whole.
Ultimately, writing thank-you notes should make recipients feel good and remind them that they matter to your business. It's important to reflect upon this in your note. Doing so will strengthen your relationship with the person you're thanking, making him or her more likely to remember you in the future.
Time Is of the Essence
Write the thank-you note shortly after the close of a sale, conclusion of a project, or another occasion. While a note written not long after an event will serve as a reminder that you're thinking about it, waiting too long may make the note seem like an afterthought. The note should be a reminder of positive interaction. It will be less effective of a reminder if it's sent weeks afterward instead of days.
Be Complimentary
Being complimentary can be difficult in the context of a business thank-you note. Your goal in writing the note is to show the customer, co-worker, donor, or candidate that he or she made a positive impact on you and your business but not to be overbearing with your flattery. Saying one meaningful thing about what a client means to you is much better than spouting off a ton of compliments. Too much flattery may have an adverse effect in the long run.
Choose Your Stationary Carefully
Because the thank-you note is for business, it should be professional. Pick your stationery accordingly, avoiding heavy graphics and overly ornate designs. This is one case where simple really can be better. To make sure your personal message stands out, it's a wise idea to stay away from cards that have sayings on the inside.
It's also important to avoid anything that could be construed as offensive or controversial. It would be unwise to send a politically charged note or one filled with jokes. Save those for your personal friends, not your business relationships.
Express an Interest in a Continuing Business Relationship
Business thank-you notes are often used as a means of developing or furthering a business relationship. It should be clear to the addressee that you are looking forward to continuing your working relationship in the future. Simple messages such as "I am looking forward to our continued collaboration" are appropriate, but making them more personal, yet still professional, furthers the point that the addressee matters.
Personalized and handwritten thank-you notes are appropriate in a vast array of business situations. Whether you're thanking a customer for a sale or a donor for a contribution to a charity, showing appreciation is important. By taking the time to send a thoughtful handwritten thank-you note, you're doing your part to show that you care and that your business contacts matter.