Boost Your Profile By Implementing Online Reputation Management Strategies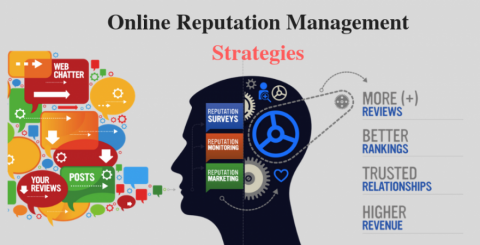 Online Reputation Management Strategies
There are several misconceptions about online reputation management. For some people, it is all about social media monitoring, while some others link it with public relations efforts. A few people are literally clueless about the impact of ORM. Whatever it is ORM is important though it is a time-consuming process. Further, it is not easy to assess the online reputation. It even calls for the implementation of a few online reputation management strategies in order to achieve the desired results. The aim of this post is to provide you with some helpful information about managing your online reputation.
Building Blocks of Online Reputation
The three main building blocks of online reputation are owned, paid, and earned content. These components are used in combination with SEO, PR, and ORM to build your reputation.
Owned Content
This is the content that you have created for yourself. You have complete control over the content you create. However, your website occupies only one spot in Internet search results. Your blogging site, which is different from your website, and social media networks such as Twitter and Facebook are all powerful channels for hosting owned content. Online reputation management companies make use of these properties for building your reputation.
Earned content
Earned content refers to the information available online about you that you did not create or paid for. This is something like free publicity. Online reviews, social shares, mentions about you, and re-posting of your content all fall into this category. If you are fortunate, you may even be reviewed favorably by a reputed media company.
Paid content
Paid content refers to pay per click (PPC) ads, display ads, content syndication, paid promotions in social media, paid influencers, and all the other types of content that necessitate some kind of payment from your side. Paid content has its own value and is best used with owned and earned content.
Online Reputation Management Strategies
Reputation management strategies are detailed plans for improving your online profile. It involves conceiving the profile that you want, and adjusting whatever is possible and achieving your goals in a step by step manner.
It all starts with an analysis of your current reputation. This helps you to define your objective and profile. Further, it is important to customize your reputation management strategies to meet your specific needs. Multiple strategies may have to be simultaneously employed to achieve the desired results.
#1: Transparency strategy
It is the best commandment to follow. All successful people adopt this policy. It means that you are open to feedback and criticism. Transparency involves:
Freedom to publicly express opinions about you
Opening up one-on-one communication channels
Soliciting feedback
Not deleting or hiding criticisms in social media posts and addressing concerns either publicly or via offline private messages
#2: Suppression strategy
This strategy involves pushing down bad results in search listings by adding new good content and helping existing good content to move up. New content, images, web properties, and reviews are all developed with the idea of projecting a positive image.
#3: Removal strategy
When implementing this strategy, you will be leveraging a violation of the Terms of Service or a relationship to your advantage. Local newspaper articles and personal blogs are all candidates for implementation of this strategy. Removal of a web page often happens at the source or by Google, under certain circumstances.
#4: Protection strategy
This strategy protects your reputation through the creation of useful and relevant content and publishing them in high domain authority sites.
#5: Online reviews management strategy
In implementing this strategy, you encourage real people to post reviews. You can encourage them by even offering incentives.
Automated Reputation Monitoring
As with anything else, you cannot fix something without knowing about it. This means that you have to track mentions online. This helps to identify a problem before it becomes overwhelming. ORM services make use of a number of helpful tools for monitoring mentions in search listings, social media platforms, and review websites. They track the performance of content campaigns and provide information on changing direction, increasing efforts, etc.
Reputation Management Tips
Set realistic goals
Create Social Media Profiles
Follow A Content Posting Schedule
Moderate Comments
Never Argue Online
Remove Old, Irrelevant, and Negative Content
Fact Check Everything
Become an Expert
Seek Positive Publicity
Address Criticism As and When Necessary
Seek Expert Advice
Finally, online reputation management is not an easy task. You need to follow a regular posting schedule and actively monitor mentions. Professional ORM specialists are better equipped to handle it. When you entrust the job to them, you will be able to focus more on your core activities.