Best Ways to Arrange for a Sofa, Recliner and a Coffee Table in a Small Living Room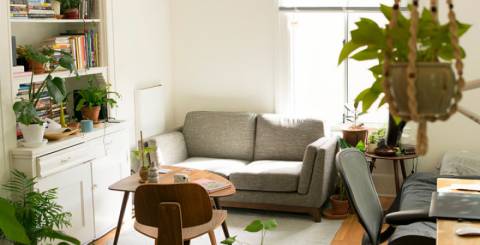 As per today's lifestyle, people are living more in nuclear families rather than joint families. According to that people have small homes. Small homes have a small living room and arranging/ decorating that living room nicely and in a trendy way is very important. It doesn't matter if your living room is big or small, having the right furniture arrangement will make them look prettier.
The living room is that space of your home where you spend most of your time and it is quite challenging to utilize the space wisely. It is important to décor your living room in a way so that it looks spacious.
If one has to arrange in a small living room, it is important to follow a few interior design ideas to do it. Let's get started:
A Sofa- A pair of sofas is the simplest and best way to organize your living room. The whole family can sit on it and enjoy conversing with each other. Also, the relatives and visitors are asked to sit on the same. So for the small living room, it's better to have the sofas facing each other. It helps to bring all the family together. Also, it depends on the size of the sofa and while choosing the same, keep the size of the family in mind. Additionally, the pick your sofa in the light colour, so that it will look less bulky.
A recliner- A recliner is a must these days as it adds comfort and relaxation to your living room. People can choose in between a large recliner or a small-space recliner. These are really compact pieces that offer full-sized comfort within a small footprint. Also, if you are choosing the recliner for your living room, try to match it with your sofa as it will look visually better. If you don't want to do so, then simply place it in the most craving corner of your living room. Try to decorate it as a normal chair by placing a small coffee table near it.
A coffee table- A coffee table can be arranged in your small living room nicely and there are many types of coffee table one can choose from, according to the size of their living room. Trunk coffee tables are the most trending one these days as you can reuse it for storage. Also, get it in a smaller size because it is not used on a regular basis. Try to mix and match it with the centre table as it will look visually better. Moreover, if you love to experiment with your living room look, simply choose your coffee table in some quirky colour for your home interior.
Other than this, please keep the following things in mind while picking up the sofa, recliner and coffee table for your small living room:
- Scale the Furniture before stuffing it into your living room.
- Go for the mounted storage as it will provide you with more space for furnishing.
- Leave some space to walk and move by not going for bulky furniture.
- Choose light and soft colours as it will help your living room to look lighter and brighter.
- Play with light as more light will help your room to look bigger.
- The Horizontal dimensions will help your living room look versatile.
Above three things are really important and suitable for a small living room. The best thing about a small living room is it gives a feel of more inviting and comfortable than a larger one. One can add mirror and plants to their living rooms. Mirror and plants are a wonderful way to add deepness to a small living room. Greenery relaxes corners and give pleasure to eyes and give them thinking that there is more to the room that there really is. Plants look good in corners and beside sofas.
Hope these tips will help you to décor your living room the best way. Good Luck!