Are There Any Applications Similar to WeChat?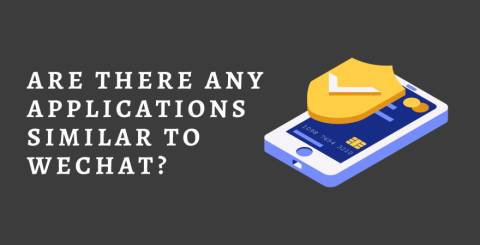 Super apps refer to those tools or apps that provide several features in a single application to eliminate the need to switch apps. Super app is one platform for all your needs.
WeChat has become very popular in China because of its convenience and the many features it offers.
How is WeChat different from other messaging apps?
WeChat differs from other communication apps in a few key ways:
WeChat is more focused on social interaction. Messages can be used to communicate with friends, family, and other users in your network, rather than just being a platform for sending messages.
It is more geared toward mobile devices. The app is designed to be easy and integrate with other apps, making it a convenient platform for communication.
It has a wide range of features not found in other communication apps, such as live streaming, payments, etc.
Because of issues, the Indian government banned all the apps that are developed in China. That was the time when people started searching for WeChat alternatives.
There are some super apps considered the best alternative to WeChat, They are:
Clap Messenger may appear to be just another instant messaging application, but it is actually a super app that is end-to-end encrypted, ensuring that user data is safe from cyber threats, hackers, and vandals.
It enables secure payments, messaging, calling, and call recordings, among other things. Money split, record sharing, appointment booking, and events are a few of the unique features. In the second phase, third-party merchants will be added for meal ordering, travel booking, card and loan payback, utilities, shopping, and other services.
Rappi is an application currently available in 9 countries that helps people to use services like ordering groceries, medicines, and other courier needs.
It claims to make lives easier, and to some extent, it does. People worldwide can avail of their services if it becomes available in every country.
It is a fast and efficient application that can help people communicate more effectively.
It is a secure application that prioritizes customer needs and provides services 24*7.
It is a simple and easy-to-use application that can be accessed from any device.
Developed in India by the Tata company group, this app is a blend of every app Tata has created separately. A very recent and modern approach to creating a super app in India by Indians.
Everything can be done within this single app, from medicines to groceries, clothes to airlines, bookings, and purchasing electronics.
All the amenities are included in this versatile app. There are diverse options to choose from. With this, Tata is attracting customers to use their products only, and with the convenience of this app, it wants to provide a platform where people can buy Tata products on the Tata app, hence, earning more.
With the super app, you can do everything from booking tickets and paying bills to booking cabs, ordering food, and more. It makes your life very easy and convenient. The best part is that it's very safe and secure as well. Phone Pe lets you do all the above services on a single platform.
Phone Pe is a very interesting app because it has many features and is very easy to use. It has a wide range of uses and it also gives reward points for certain tasks, which can be used for cash back when performing the same task next time. This app is widely used because of its simplicity.
Troop Messenger may not fall under the category of social-super apps, but it paved the way for it to become a business super app. Following the super app concept, Troop Messenger is a team chat app that adheres to every business and industry's requirement in every aspect.
For example, when you need to hold a video conference, you customarily look for specific tools like Zoom, or when you need remote access and screen sharing, you look for TeamViewer or AnyDesk, spending your budget on multiple tools. However, with Troop Messenger on your side, you don't have to spend your budget on multiple tools, and your team won't have to multi-task by scattering between multiple UIs since your every office requirement will be facilitated.
Conclusion
Apps for different purposes were developed, which led to confusion between so many apps on a mobile phone. To limit the number of apps and merge the services of many apps into one, super apps were created, and in the future, many super apps can be expected to ease our everyday tasks.