Applications of Signage For Small Business Marketing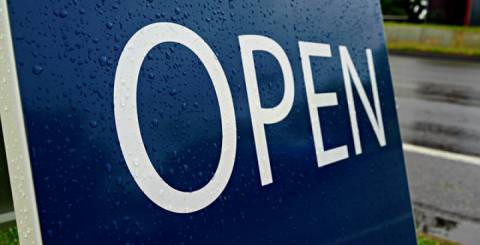 Starting up a small business with a well thought out branding and marketing plan can play a key role in dictating that companies future. Performing in-depth market research, competitor analysis and creating an effective marketing strategy can help in establishing your brand quickly in the market (local and online).
However, the real challenge is deciding what strategy to follow as a new business. As a small business, signage marketing would be an ideal choice to limit your budget, get attention and create a solid customer base.
In this article, you will learn some effective applications of signage and how to market your small business effectively. Implementing creative business signage ideas (indoor and outdoor signs), by following set principles, will help capture the attention of certain people and help you become a leader in your industry. So, read below and know the major signage applications/types and how they can be effective for small business promotion.
Creative Outdoor Signage:
The very first type of signage that you should consider for small business marketing is the use of creative outdoor signage. Outdoor signage should give a clear message to customers about your products and services. 
When you hire a sign company, just make sure they are experienced and understand the creativity behind an attractive outdoor sign. A professional signage company understands the principles of creating creative signage which can capture the attention of people.
These principles are:
Good readability (even readable from a distance)
Font style, size, and colors should be user-friendly and attractive (choose bright and vibrant colors)
Signage visibility and placement
Attractive design that suits your product or business theme
Scale the size that fits your message
Precise spacing of letters and numbers
Use catchy words to attract customers
Good business signs should not have more than 7 words
Design with ample white space
You can apply these principles to all signs you create for your business. It's always imperative to understand how signage works and improve the effectiveness of your advertising materials.
Vehicle Graphics for Small Business Marketing:
A professional sign company offers signage solutions for business vehicles of all sizes. This is another cost-effective form of marketing.
Vinyl and decals are designed to advertise your business message effectively. They will design custom unit numbers, fleet identification, and graphics for all size of vehicles to advertise and deliver promotional messages.
Vehicle wraps are best for cars, trucks, vans, SUVs and other vehicles for promotional purposes. This strategy is highly effective when you want to establish a brand locally without spending a lot on marketing campaigns.
The major types of vehicle graphics are:
Vehicle decals (Best for branding)
Vehicle wraps
Interior/Exterior Signs and Graphics:
Third, and most popular, type of signage application is interior signs and graphics. These signs and graphics are created for small businesses to attract local customers.
Whether you are running a retail business or offering services, having attractive interior signs and graphics can engage people and bring their attention to your business.
Popular types of Interior signs:
Creative directional signs
Wall signs (Best for reception signage)
Safety signs
Nameplates
Window privacy signs
Office or shop wall graphics
Popular types of Exterior Signage:
Flat signs
3d lettering (plastic, metal, and acrylic material signs)
Banner signage (Traditional, mesh, and retractable banners)
Sign panels
There are also some other interior and exterior signage types which are very effective to promote your business and establish yourself as a brand. Following these guidelines will help you promote your brand and gain more attention for your business. Promotion through signage marketing is cost-effective and best advertising approach for small businesses.