Android Pie vs iOS 12: Is There a Clear Winner?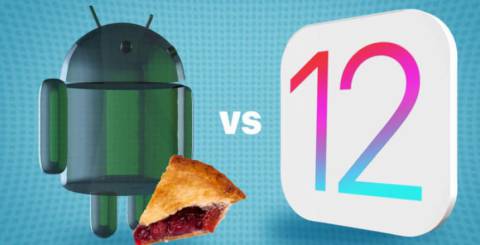 Given the highly digital world that we live in, it isn't surprising to see that mobile app development is all the rage right now. And understandably so -- it has not only made consumers' lives easier but also served as an exceptional resource for business, delivering ace results and profits. But in order to fully harness the power of mobile apps, it is important to stay at top of all the latest developments in all aspects, including any progress and changes in reference to mobile Operating Systems (OS) in the market.
As well know, Android and iOS are currently the two leading OS and let's just say that their parent companies know how to keep things exciting as they regularly bring in exceptionally advanced features and updates. This, in turn, can make it quite tricky when you have to pick between the two. But don't worry, because we put together a nifty comparison of the latest iterations of each of these two platforms, i.e. Android Pie and iOS 12 so that decision can become a little easier for you.
1. Virtual assistants
Last year, Google introduced new voices for Google Assistant, which, by the way, is capable of handling a lot of things, including a grouped command or a series of questions. Besides that, the tech behemoth is also experimenting with making the Google Assistant sound sufficiently human to engage in a brief conversation with other human beings.
Siri, on the other hand, with the upgrades it received in iOS 12, focuses on ensuring iPhones are able to foretell what the users need before they even look for it. iOS 12 gets Shortcuts, an app that allows the user to configure profiles that go through a pre-determined process when they utter specific keywords. Nonetheless, the Apple virtual assistant has a long way to go if it even wants to get close to what Google Assistant is capable of.
2. Gesture control
Though Google did introduce official support for notches and navigation gestures with Android Pie, the OS still isn't completely gestural. Like it still depends on the back button, making the experience feel kind of incomplete.
On the other hand, iOS 12's gesture control game is sorted especially since it didn't take iPhone X too long to bring both notches and navigation gestures into vogue.
3. Augmented reality
Both Google and Apple introduced substantial updates for their respective ARKit and ARCore at their respective developer conferences last year. But as far as playing with AR apps go, Google offers an iPhone-to-Android multiplayer feature called Cloud Anchors.
iOS 12 too gets a multiplayer feature that allows iPhone users with iOS 12 to interact in the same augmented reality environment alongside each other.
4. Overall performance
Google brought in Project Treble that seeks to address the issues associated with pushing updates in Android. It can differentiate between the bulk of Android from the UI tweaks and customizations governed by OEMs, thus allowing updates to be pushed quickly and more regularly.
iOS 12 takes a different approach in this regard, focusing on growing its reach to a wider audience base. iOS 12 is capable of supporting a large variety of devices from Apple's stables, going all the way back to iPad Air and iPhone 5S.
We'll be completely honest with you -- it is nearly impossible to pick a winner between iOS 12 and Android Pie since each of these OS' brings with it its individual set of novelties and features. So, before you decide to go for iPhone app development or choose Android, be sure you evaluate your options in accordance with your business' requirements.