7 Zesty Pizza Hut Pizzas That You Simply Can't Resist
There are many pizza vendors trying to establish a stronghold in the F&B market in India. Take a walk through your neighborhood and you would be surprised to see vivid local restaurants and pizzerias, with funky names and flashy lights, trying to meet your food desires. Not to mention, the jazzed-up menus will surely catch your eye, but not sure if the food will also excite you as much as the menu did.
When it comes to food, well, I don't really like to experiment much with my stomach. In a way, I am old school. Hence, a Pizza Hut pizza would delight me and quench my hunger just the way I desire. Besides, the trust factor that develops over time will always be impactful. On that note, I would request you to dedicate some more time of yours to read this blog all way till the end and check out the following 7 tastiest pizzas offered by Pizza Hut. This is my top 7 list that will include both veg and non-veg items. I hope you'd like it and agree with my keen observations. Beware, by the time you read it all, you'd definitely be hungry. So make sure you are ready with your mobile device and internet connectivity to place an order in a jiffy.
Here we go!
1. The Ever Classic Veggie Supreme Pizza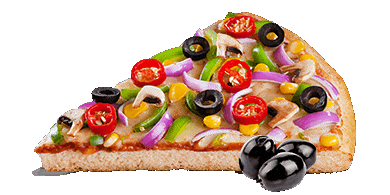 This one falls under the Supreme category of pizza offered by Pizza Hut. As the name suggests, Veggie Supreme pizza brings to your plate, a unique combination of sliced onions, sliced green capsicum, chopped mushrooms, fiery red paprika, black olives and lastly sweet corn.
Tickles your taste bud, doesn't it?
Hold on, there are 6 more to follow!
Here are some more details about the pizza.
Default Crust: Pan
Default Size: Medium
Yes, the pizza is customizable and you can make it much special by doing the right combinations.
A medium pizza (without any customization) would cost you Rs 480, perfect for two.
2. Supreme Exotica Pizza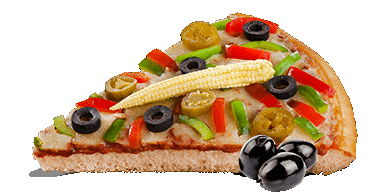 Well well, this is my favorite veg pizza from Pizza Hut. Imagine a juicy combination of premium veggies such as red capsicum, green capsicum, baby corn, black olives, and tangy jalapenos, which will take you back indeed!
Here's some more detail about this exotic pizza.
Default Crust: Pan
Default Size: Medium
Yes, the pizza is also customizable. 
A medium pizza that serves two people would cost you Rs 480 only.
3. Mouth-Watering Paneer Vegorama
For those who have a thing for Paneer, well, this one is a pure delight. Falling under the Supreme series of pizzas offered by Pizza Hut, Paneer Vegorama presents you with a one of a kind exciting combination of premium veggies such as Onion, Capsicum, Black Olives, Red Paprika & Paneer cubes dipping right into that melted cheese.
Some more details:
Default Crust: Pan
Default Size: Medium
Yes, this pizza is also customizable. I'd recommend stuffed crust.
A medium pizza would cost you around Rs 480.
4. Signature Country Feast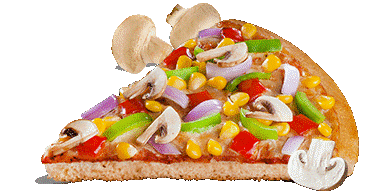 For the old school lovers, nothing like this Signature Pizza Hut classic. The Country Feast pizza brings to you a fantastic blend of onion, capsicum, mushroom, sweet corn and well chopped tomato.
Some more details:
Default Crust: Pan
Default Size: Medium
Yes the pizza is also customizable.
A medium pizza (serves 2) would cost you Rs 425 only!
5. Signature Chickeroni (Chicken Pepperoni)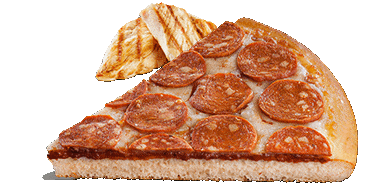 Well, there are non-veg pizzas and then there is this one in particular. If you are one of those meat loving pizza maniacs, well, this pizza just fits right in. All you get here is an overload of Chicken Pepperoni and cheese. Smack it up with a Cheese MAXX crust and trust me, it would be the best thing you might have tasted in a long long time.
A medium sized pizza would cost you Rs 480.
6. Chicken Italiano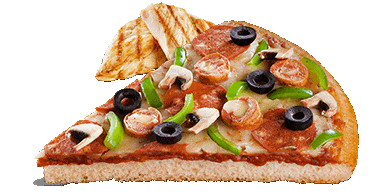 Chicken Italiano is one of the most classy non-veg pizza offered by Pizza Hut. You get premium veg as well as non-veg toppings blending perfectly over a cheesy base. To name a few, you get toppings like chicken pepperoni, chicken sausage, mushroom, capsicum, and black olives. Lovely, isn't the sound of it? Well, taste it and get even more surprised. A medium pizza would cost you Rs 525.
 
7. The Ultimate Chicken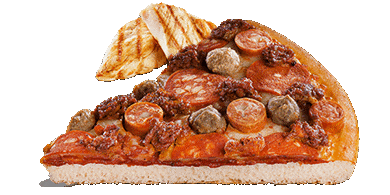 Last in the list had to be this one. Chickeroni pizza was indeed a great non-veg delight, but this one is a pizza that will (mark my words) "diminish" your non-veg cravings, unlike any other pizza. What could possibly go wrong when what you're offered is a smothering combination of?
Chicken Meatball, Chicken Pepperoni, Chicken Sausage and Chicken Keema spread all over that creamilicious cheesy pan crust.
Order one today and let your taste buds do the futterwacken!
A medium-sized Ultimate Chicken pizza would cost you only Rs 525.
With this, I'd wrap up my list of 7 tastiest pizzas from Pizza Hut. As I have mentioned earlier, Pizza Hut is a brand you can always rely on and trust that the food that'll be delivered at your doorstep would be of high quality by all means. Time for you to place your order, hurry up and avail some exciting discounts too!