7 Reasons Explain Why It is So Essential To Use An ERP System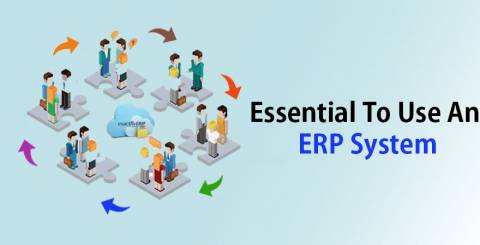 Working on what you are already good at offers you more mileage. As an entrepreneur, it is smart to invest in strengthening your strength, like managing your resources. You must already know by now how important your resources are; how crucial it is to manage them. So industry experts are throwing their weight behind ERP system for remarkable results.
Why Is An ERP System So Tempting To Businesses?
Business operation today has undergone huge transformation; it is much more dynamic and result oriented than before. Resources are the key factor which can alter the fate of business and hence they have to be managed wisely. This is where enterprise resource planning comes into the picture and cements the need for an effective ERP system. Said all these, you must be curious about ERP. So, let's now take a look at some of the most important ways in which ERP solutions can benefit a business organization.
Enhance security

Business operation is a complex process involving multiple factors and data usage risks. However, having an effective ERP system in place protects your documents with secured user-permission settings. The users will be restricted to only what they need to use from the system.

Boost productivity

ERP implementation automates your business operation. It finds out unnecessary processes and activities and eliminates them. By removing these unessential elements you can enhance the productivity.

Community knowledge and assistance

Since multiple organizations use ERP system, they have their employees who involve in the process and thereby share their knowledge with the online community. This creates a knowledge base and active forums to seek solutions when facing any issue.

Improve business decision

The ERP software companies engage in producing integrated software where you can find important applications. As a result, your data gets updated from time to time. Thus you have important data to refer to and take accurate business decisions.
"Accounting is the language of business."

-Warren Buffett
Adhere to the law of the land

Since you are a corporate entity operating is a particular area. You are responsible for maintaining proper law and order of the area. Therefore you must adhere to the rules and regulations of the place. Often certain government rules become hurdles and create complications work. However, by adopting an effective ERP system, you can avoid such obstacles. Latest ERP solutions are made compatible with the rules and regulations. Thus, it enables an organization to adhere to the rules and regulations of the land and stay clean on the books of law.

Cost-effective management

When it comes to managing a business, it costs you dearly. Business operation and management make up a bigger portion of an organization's expenses. So it is wise to go for ERP implementation to control such a huge expense. By having an effective ERP system, your organization can enjoy cost-effective management solutions.

Better business prediction

As said earlier, during the functioning of an ERP system, it gathers data from its stakeholders – it gets collected as a part of the process. An organization can, therefore, have sufficient data to analyze and get a better view of the prevailing business scenario with respect to the organization's stand. It can, therefore, make a more accurate business prediction, which will further help the organization in achieving its goals.
Successful business management is about using smart solutions to dilute major potential problems. An ERP system is one such aid that can remarkably benefit your venture. So, when planning for a successful business, you must consider the above-stated benefits and invest in the best of ERP solutions for effective resource planning and efficient business management.