7 Questions to Ask Before Hiring A BPO!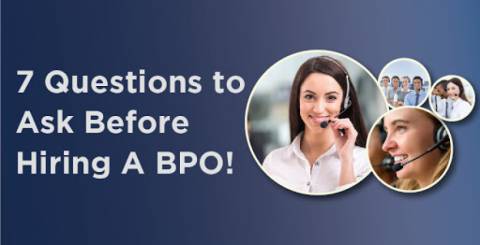 In this fast-pacing business world, it would be wrong to shut the door for BPO services, which can bring great opportunities for you. However, hiring BPO services can be quite hectic and time-consuming. When there are so many options to choose, each promising to generate the best possible results, anyone can go crazy.
Saying NO to BPO isn't easy when it can increase a company's productivity and efficiency. For this purpose, hiring a qualified BPO service can make or break RCM. Along with the professional competencies, these services should accompany with following characteristics.
Professionalism
Time efficiency
Will to do best for clients
A brilliant record of accomplishment
Aligning management efforts with business goals becomes very easy when professional business process outsourcing (BPO) helps side by side. However, interviewing them is another task, and shying away from BPO services doesn't solve the problem. For hiring the most appropriate service, the following list of questions should be asked.
Ask About Their Past Experience & Satisfied Customers
In the interview session, ask BPO, if they have prior experience in the same field. It will help you recognize whether they have enough expertise in the relevant domain or not. Moreover, they should have satisfied customers. Only this way, you can be assured that you'll have desired business results in the future.
Ask for Past /Sample Projects Related to your Business Domain
Evaluating a BPO company becomes easier when you look into their projects. Previous or sample projects give an idea that if the company understands the scope of your business. Moreover, how it'll come up with the operational scale. This also helps in knowing the type of association your company will have with the outsourcing company.
Ask About Human Resource and Their Expertise   
It is your right to know about the persons who will be working on your project and what expertise they hold. Conversely, it is their duty to inform about the number of dedicated resources to your project.
It will assist you to estimate the time limit of project completion. Without acknowledging your resource capability, one can't project documentation into reality. To fulfill the company's goal, it is essential that you get a higher understanding of each aspect.
Ask About Their Management Skills
It is not advisable to hire a company that has a specialty in a task but lack managerial skills. Both should go hand-in-hand. Only then, you can estimate the quality and value of your work.
Verify Each Other's Work Processes
If a BPO works according to your standard work process, what's best than that. Both parties should know each other's objectives and the business framework. Ask what their expectations for this project are.  Map an execution plan and check if both companies can be compatible with each other.
Ask About Their Security Measures
Before going into an official contract with the BPO services, communicate your firm's policies to them. Ask what measures they will take to enforce your policies throughout. This way, your work will be done efficiently as per your requirement within a secure environment.
Ask for the Contractual Details
Come on mutual consensus between the terms and conditions with the BPO company. Business agreements are sensitive and require complete discussion before saying yes to each other. If you don't go through this phase, you might end up, being frustrated with the quality of work.
Moreover, cost-factor should be decided on a priority basis with the BPO vendor. Else, you'll have to communicate your reservations throughout the working process.
We understand that this is all too much to handle. After all, involving another company for the sake of improved productivity and efficiency is a big decision.  However, by collaborative efforts, both companies can achieve their goals.
So, if you want to invest in BPO services, ask the above-mentioned questions and find a qualified BPO company for your business.
If you have, other questions that you deem useful to ask before hiring a BPO, share with us!