7 Must-Have Features for an On-Demand Food Delivery App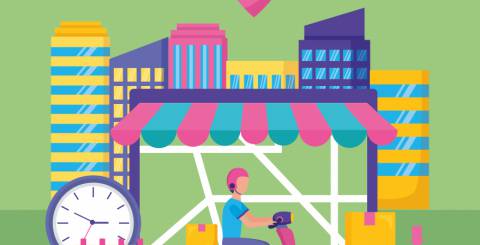 In today's digital age, mobile solutions have paved great ways for companies to provide faster, smoother, and hassle-free services. Businesses across domains such as food, transport, ticket booking, medicine delivery, and more are turning toward on-demand solutions. Such mobile apps help to provide enhanced user experience and increase revenue.
Today, we will look at the essential facets of an on-demand food delivery app. And how a feature-rich mobile solution can assist you in growing a successful food business.
Top Features of an On-Demand Food Delivery App
Consider the below must-have features before developing an on-demand food delivery mobile app for your restaurant business.
1. Intuitive UI
An interactive and easy-to-use interface is an essential feature of a food-delivery app. It helps users to search and order food at their convenience, which leads to attract and engage more users on the app.
The app must load all elements quickly whenever the user opens the app or changes the screen. Besides, it should enable the user to have easy navigation and search options for the food menu, restaurants, and more. If a user finds an app responsive and easy to operate, there are more chances that he keeps the app on the device for future orders.
2. Location-based Services
The real-time GPS tracking feature enables customers to track the delivery time and current location of the delivery person.
Therefore, your app should provide real-time availability of the restaurants that are accepting orders at that time. It offers convenience to the users and helps them to get their favorite food delivered as quickly as possible. 
3. Push Notifications
Sending push notifications is a great way to keep your users engaged with the app. It includes information such as location-based discounts, offers, order updates, and more. A well-organized push notification management assists in the substantial growth of your food business.
4. Multi-Payment Option
People prefer to use e-wallets, credit/debit cards, and even cash on delivery option to pay for their food. Therefore, the implementation of secure and easy payment options in your app makes the customer feel more comfortable while using the platform.
5. Recommendations and Deals
Recommendations based on the order & search history allow users to save time when they explore the app for their favorite food or restaurant. Besides, the app should provide promo codes, discount coupons, cashback, and other offers. It enables customers to save money when they order food and further increases conversion rates.
6. Feedback & Help Center
Reviews and ratings from the customer would help you to know about the areas of improvement in your app. Basis the received feedback; you can address their concerns and provide a better customer experience.
Moreover, a help center allows users to get solutions for their queries related to previous or current food orders, restaurants, payments, or any other app feature. It helps build their trust in your food app and leads to an improved customer retention ratio.  
7. Social Media Integration
Social media integration is one of the most recommended features to include in a food ordering app. It enables customers to share photos, videos, reviews, and more with their friends and family from the app directly. As a result, your app gets more attention and engagement through different social media platforms.
Now, let us look at the four core areas and their respective features of a.
1) Customer Panel
    • Register/Login
    • Manage Profile
    • Browse Dishes, Restaurants
    • Avail Discounts
    • Secure & Easy Payment
    • Real-time Tracking
    • Social Media Sharing
    • Reviews & Ratings
    • Queries & Help
2) Restaurant Panel
    • Register/Login
    • Manage Account
    • Add/Manage Menu
    • Manage Orders
    • Manage Payments
    • Add/Manage Discounts
    • Respond to Customer Feedback
    • Answer Queries 
    • Delivery Tracking
    • View/Download Reports
3) Delivery Boy Panel
    • Register/Login
    • Manage Profile
    • Check Orders
    • In-App Navigation
    • View Earnings
    • Job History
4)  Admin Panel
    • Login
    • Add/Manage Restaurant
    • Add/Manage Offers, Rewards
    • Manage Push Notifications
    • Add/Manage Payment Methods
    • Provide Help & Support
    • View Analytics
Conclusion
We are witnessing a surge in the on-demand food delivery app solutions. The emergence of technology has led businesses in the food domain to turn towards mobile apps to grow faster. Toward this, an experienced food ordering app development company can help to build a custom mobile solution to target the right audience and increase business revenue.