7 Google Analytics Features Every Website Cannot Miss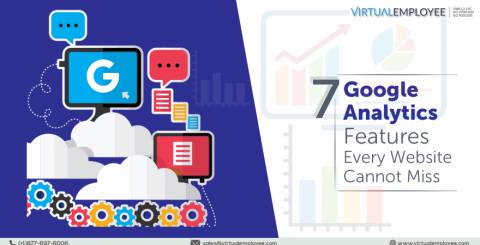 Google Analytics can be looked at in two ways. It is a money guzzler that you literally empty your pockets for, just to look at a few metrics that hardly matter or a tool that helps you understand exactly where your site stands and what you must do to improve its performance in a lot of areas. If the latter is anything to go by, then below are 7 Google Analytics metrics that you as the owner/promoter of a website cannot miss out on.
Ecommerce Tracking: Ecommerce tracking is one of the most essential features of Google Analytics. The reason being, through it you get to know where your most profitable customers come from. This will help you brainstorm better. Google Analytics is so good in this matter that every report that can be pulled out from the tool can be switched to an e-commerce version. This helps you see how your website is making money. To set up Ecommerce Tracking on Google Analytics, you must go to Standard Reports followed by clicking on the "Admin" button on the top right. After that, you must click on "profile settings". After that, you go to "e-commerce settings" and then change the drop-down to "Yes, an Ecommerce Site". Finally, you click on the "Apply" button. Now that you have set up Ecommerce Tracking, you have to connect it with an e-commerce portal such as Shopify or Cart66 and share with it your Google Analytics property ID. You will begin receiving e-commerce data.
 
Goals: "Goals" is another critical feature that must be activated on Google Analytics is your website is to surge ahead. What goals are you going to activate on the tool? What can these be? These can be anything ranging from "Leads" that you are looking for to "Newsletter Signs-Ups". To activate this feature, you must go to Google Analytics standard reports and click on the "Admin" button on the top right. After this, you must click on "Goals". There you will see multiple goals sets, displayed in the form "+ Goal". These will be among URL Destination, Visit Duration, Page/Visit and Event. You must click on the option you wish to track as a goal. In the case of URL Destination, you must define the goal URL and check "Use Funnel" and punch in the preceding URL of your funnel. It is advised that you hire a web analytics expert who can do this for you if you are not that experienced in setting such features up.
AdWords: If you happen to use AdWords, you must connect it with your Google Analytics account. Simply log into Google AdWords and then click on the "Tools" and "Analysis" tab and then on Google Analytics. Select the "already-have-one" option, considering that you already have an Analytics account for your website. Now pick the Analytics account you want to connect to and that would be it. If you are using Google Analytics v5, you can find your AdWords settings thereby first logging into Google Analytics, clicking on "New Version: at the top, clicking on "Admin" on the top right, selecting the Google Analytics account and then click on "Data Sources". Google Analytics Experts guide you on setting these up.
Site Search: People visiting your website might think something is amiss. How do you find that out? Simple. Connect your Analytics account to your internal site search. You get a list of every keyword people are searching for. Go to Analytics standard reports, click on "Admin" at the top right, click on "Profile", look at the bottom where you will find "Site Search Settings" and select "Do Track Site Search". Your site uses a query parameter to identify internal search terms. To find your search query parameter, go to your website and search for something after which look at search results, look at the URL and find your search term. A Google Analytics Expert in India will always guide you on how to find your way with these.
 
Campaigns: ROI is what matters in the end. You measure that for your search traffic. More important than this is to measure ROI for all your marketing campaigns. Analytics track all URLs that can be edited. It is easy to set up campaigns, by simply building campaign URLs via the URL Builder tool. You need to enter some basic info about the link to track it in campaign reports such as Source, Medium, Term, Content, and Name.
 
Filters that Exclude External Traffic: Google is always collecting data on each visitor visiting your site. Constant visits from you and your own team also get counted. This can be misleading, as you may feel that you are actually having a lot of people on your site. This skews up all the metrics in your reports. This is where Filters help. You can use one to exclude all the internal traffic to your site. This is one of the most essential features of Google Analytics. Hire a web analytics expert in India if you are unsure of setting up one.
 
SEO Reports via Google Webmaster Tools: Google checks in on factors such as keywords giving most impressions, click-through rates, how a website ranks for individual keywords and click-through data for top landing pages. To activate these, you will have to activate the Google Webmaster Tools on your website and connect it with your Analytics account.