6 Must Haves Every Man Should Own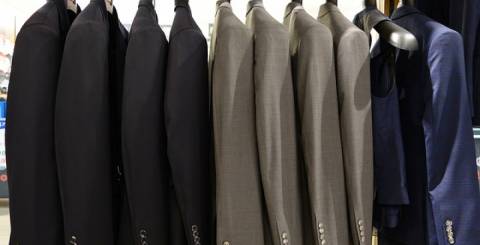 When it comes to fashion for men, they are as selective as women.  It seems that there is always a new "must have", which at times becomes the cause of confusion.
Thankfully, there are some items in the list of men's fashion that never goes out of style. Here are the six must to have items, which every guy needs to have in his closet and even after years it will still be the best fashion statement ever.
Must Have #1 - Navy Colored Suit
This is a definite to have. There is no dress suit in the world that can beat a clean and crisp navy suit. Not only does it give you a very sophisticated look, this color suit every skin tone and is perfect for all kinds of occasions. Whether you mix and match it with a tie or pocket square and some classic oxford shoes, there is no way that you won't get any "WOW" looks.
Must Have #2 – A Trench Coat
According to us, we call it a good investment. There are very few things that are as everlasting as well-fitted trench coat. It looks great when paired with a tailored suit and looks perfect with jeans as well. We recommend you to own a perfect khaki to make sure this trench coat lasts you for years.
Must Have #3 – Custom Fit Dress Shirts
You are never too old for custom fit dress shirts. This is an item that you can wear every single day, so you should have some basic colors in custom fit dress shirts like white, black, cream, gray, brown or sky blue. From weddings to weekends to work – it goes perfectly on any occasion. Invest in some good tailored custom fit dress shirts, these shirts are made according to your body size so they will fit you perfectly.
Must Have #4 – Dark Denim
You must be waiting for this one, right? Well, we wanted to put this at the top, but just to make you anxious about this one we have placed it at number four. If you already own a pair of dark fitted denim then you have made a rightful investment, but if you still haven't found one then you better buy it soon. Not only dark denim goes with everything, they are the classic no-brainer, no matter what kind of style sense you have.
Must Have #5 – Messenger Bag
Long gone are those days when you need to travel with your grandpa's briefcase or backpacks. The messenger bag is now here to stay for long. Messenger bags are available in many styles and colors, but we recommend you to stay with a neutral color. Pick a canvas or leather bag which has an option to be hung over the shoulder or can be hand held.
Must Have #6 – A Gray Blazer
A gray blazer is a must to have in your closet. Having a perfectly well-fitted charcoal gray blazer paired with a white oxford shirt and a dark denim jeans, is a killer! It's not necessary to have a charcoal gray, but a neutral tone of gray will go with any shade of shirt and pattern. The gray blazer has the power to make an ordinary dress look impressive.
Events are the part of everyone's life.  Every event has its own requirements such as formal, semi formal, casual and having a basic knowledge of fashion trends in not a big deal these days, as internet got vast information about the fashion trends. You can now easily approach for your desired design  through internet and take some ideas from it.