5 Ways Mobile App Development is Digitizing the Real Estate Sector & its Benefits for Realtors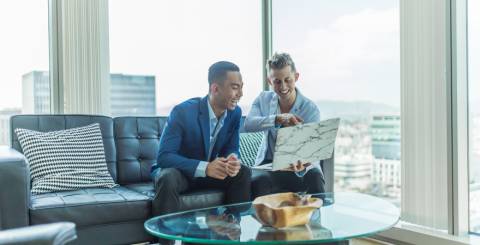 Photo by Austin Distel on Unsplash
Real estate apps and property websites are gaining popularity as a safe and speedy means of searching for the best property. Those who are professionally engaged in this industry or planning to expand their venture should adapt to the latest real estate tech trends. Such awareness will empower you to make profitable decisions and invest in the right technology for sustainable success. 
What Makes Real Estate App Development a Wise Choice?
A recent report published by the Analytics Firm Flurry revealed that the average smartphone user in the U.S. spends five hours every day on mobile. And this is where realtors can change the game using mobile apps! 
In today's tech-savvy era, most people use apps for buying and selling their properties. Nobody wants to spend their time moving around and hunting for homes when they can do it on their mobile anytime, anywhere. 
Mobile apps have brought the world at your fingertips. If builders and realtors want to create a competitive edge. In that case, they can capitalize on the expertise of a mobile app development company to create a user-friendly real estate app that offers the following benefits:  
1. Quick and Easy Property Search:
App development companies can design real estate apps that allow people to buy, sell, and rent properties or browse through property listings on their smartphones. It offers them a complete view of the property along with all the crucial information like carpet area, quoted price, and crystal clear images at their fingertips. 
Real estate mobile apps have made property search an absolute breeze for people. This ease of use and convenience offered by mobile apps is also helping real estate agents and brokers to attract more clients and increase their sales. 
2. Speedy Sales Process: 
Real estate apps also help accelerate the sales process. Property tax, home loans, and EMIs are decisive factors associated with the purchase of any property. A mobile app helps to streamline and speed up the selling process by making all the mission-critical information available in a single click. 
With a real estate mobile app, your clients don't have to wait for any information to arrive at a decision. 
3. A Solid Brand Identity:
A real estate business that wants to create a standout brand identity must build a mobile app for its existing and potential clients. A feature-rich mobile app ensures a seamless experience for the end-user. It helps real estate businesses create a solid brand identity in the market. 
A real estate app empowers builders and agents to expand their reach to the masses, increase their revenue & take their venture to the next level of growth.  
4. Real-time Communication:
With features like real-time chat, your customers can have their questions answered instantly. They can also give you instant feedback to eliminate flaws and improve services to grow your business. You can also use the mobile app to send instant notifications for discount offers and new schemes and increase your conversion rate.
Advanced real-estate apps also integrate AR and VR technology to give clients a virtual tour of the property. This feature explicitly sells stuff to customers who cannot visit the property physically or reside in a remote area.   
5. On-demand Services: 
With a mobile app, homebuyers can schedule an appointment to visit multiple sites in a single visit. They can pick a convenient meeting time and visit the property with the agent. This on-demand functionality allows agents to satisfy customers and increase sales. You can also add other on-demand functionalities to the app to stay ahead of the curve. 
Real estate mobile apps offer many advantages to realtors who want to ascertain the growth of their business. Just like every industry-specific mobile app, real estate applications also feature two panels - Admin panel and Client panel. 
Here are a few key features that realtors can leverage with mobile apps: 
For Admin Panel 
Property Management - You can add new properties and remove the sold ones, edit their details & manage all property-related information to ensure that customers can access up-to-date information
Client Management - You can access all the information of registered users in real-time and track their activities
Currency Converter - This functionality is specifically useful for realtors with properties in different locations. Your clients can easily convert property rates into their local currency and arrive at an informed decision
Customer support - A mobile app allows you to respond to customer queries and resolve real-time issues
Manage Subscriptions - A real estate app also allows you to manage subscriptions and generate more revenue through different plans
For Client Panel
Registration - This login feature enables your existing and potential clients to register. It also provides you with their contact details
Search - This is a critical feature that enables your users to find a property of their choice using filters for location, size, area, budget and more
Map - You can guide your users to the locations of the properties listed on your site and ensure a seamless experience
Property info - This feature enables your potential clients to get all the crucial information they need to arrive at an informed decision 
Promotions - This feature enables agents and builders to post new properties for rent and sale and automate notifications to maximize conversions 
Premium version - Realtors can add advanced features to the app. They ask for a subscription fee and upgrade customers to a premium version with additional facilities. 
Other additional features that you can add to the app for your premium users include an image gallery, walkthrough videos, social media integration, Mortgage calculator, Virtual reality integration, and geolocation. 
Wrapping it Up 
The cost of real estate app development depends on the features and functionalities you need in line with your unique business needs. Real estate apps can automate your day-to-day processes and benefit your business. When you have a feature-rich real estate app, your brand image gets an instant boost. You certainly create an edge over your competitors who are yet to design and deploy an app. All you need is an experienced real estate app development agency that can build an app that allows you to leverage all of the features mentioned above.