5 Ways To Make Your Website More Accessible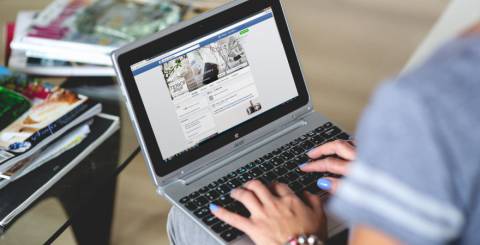 https://images.pexels.com/photos/6168/hands-woman-laptop-notebook.jpg
Accessibility is related to user experience, usability, and interface design. But what does it mean? What actions can you take to create a more accessible interface? In this article, we define accessibility in this context and we mention 5 simple techniques to make your website more accessible.
What does accessibility mean?
In the field of web design and application development, accessibility refers to designing and developing interfaces that all people, including individuals with disabilities, can use without much difficulty. According to this definition, accessibility is a feature that every interface must have because, with it, we can create a good user experience.
How to make your website more accessible?
Now that the concept of accessibility on the web has become clear, we mention 5 techniques that you can put into practice to improve this aspect in your web interfaces.
Use names that serve as an indicator on buttons and links
In the case of call-to-action buttons, you know that it is essential to have a short and precise phrase that tells the user exactly what will happen if you decide to press the button. That is, you must know what the button works for in the first place if you decide to click on it. For that reason, placing generic phrases like "See more" is not a great idea, particularly if the interface has other buttons or links.
In the case of links, it is annoying for users to find many of them with the same text such as "See more", "Read here "or simply "More ". In both buttons and links, there should be a clear textual indicator so that the user does not wonder which of all the links presented will direct him to the information he is looking for.
Add descriptive Alt tags to images
Alt tags are mostly used in images and are usually a description of the image. They are used as a kind of alternative in case the image is not displayed or the browser is not compatible or is not updated to accept the image format. These texts are like a security measure if for some reason the images are not shown, the user will know which photograph has been placed in a certain section.
At SEO level, these tags are usually included with the keyword with which it has been decided to position the said article or section, but the important thing is that it is added naturally due to the algorithms of the current search engines. If you add more than one keyword or there is no connection between the image and the keyword, then you may be doing bad SEO practice, which is never recommended.
Write clear error messages that indicate the solution
Although it is ideal not to have any type of failure in a system, the reality is that such errors may arise. In certain cases, there is an interaction error that simply does not depend on the system, but on the user. This situation can occur in a web interface when users are trying to log in and do not write the password properly. This type of interaction is also important and users must be helped right away.
Then, the interaction failures between the users and the interface cannot be avoided as some do not depend on the system. One way to help and inform users is through error messages. Following the previous example, if a person does not correctly enter their password in a login form, a message should appear indicating why the error occurred and the steps to correct it.
Although it sounds simple enough, you should keep in mind that it is necessary to use a common language that users are familiar with, always focusing on helping users solve this error.
Write clear and descriptive titles that offer context
Titles and subtitles are elements that users use to guide themselves through the website. They read them quickly to verify if the information presented in that section is of interest, otherwise, they go to the next title and the same process is repeated until they find something that captures their interest.
For this reason, you should write striking titles, but also communicate a clear message without the need for a larger context. In certain cases, a supporting text is placed under the heading where context is offered. This is also a good practice since both texts are quite close, the user recognizes them as a group and therefore can read this explanatory text if the title seems interesting.
Again, writing a title seems a simple task, but it is not always the case because it is sought that not only is a slogan but also offers context. Often, providing this context implies that we use more words and, as you may know, the titles and subtitles should not be long so you can align them on the website in just two or three lines. You must write severally until you find a balance between the context and the number of words you use for your titles and subtitles.
Optimize your web forms
Forms are a common element in a large percentage of websites and are probably one of the most discussed topics when talking about user experience. A form can serve as an example to illustrate good and bad design practices.
As for the forms, like the titles, there is a dilemma because users prefer short forms and at the same time, you must make sure to request all the necessary information.
There are several ways to optimize your web form. We mention some:
Evaluate what is necessary information and decrease the field number of your forms.
Notify your users about failures and the success of interactions. It is equally important to place an error message with an incorrect password such as indicating that the form has been sent.
Use descriptive labels and examples in each field.
Activate the login and registration through social networks.
Combine various types of fields in your form. Not all data is easy to enter by typing and there may be more optimal methods such as checkboxes, drop-down menus, etc.
Group the content visually and textually. That is, if there is more than one category, place a subtitle on the forms so that you can clearly distinguish how the information has been divided.
Depending on the type of form that is required on each website there are several good practices that you can use.
Conclusion
Accessibility is a small fraction of the user experience, but it is still important. As you have seen in this article, accessibility focuses on the ease of use of an interface. If an interface is easy to control, then users will be happy to use it. This is the logic behind the concept of accessibility and is closely linked to the current web design by top web development companies, although it can also be used in the development of mobile applications.