5 Tips on How to Declutter Your House EASILY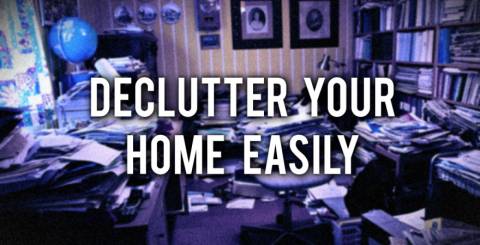 In today's world where we're bombarded with all kinds of advertisements both online and offline, it's hard not to buy pricey items without actually needing them. A new clock here, a better chair there and before you know it, your home if full of junk collecting dust. And this is how clutter is formed. Try as you might put all the worthless items in your garage or loft, they will always be there taking up space and serving no purpose. So, if this is such a huge problem, how can one solve it? Well, the first step to decluttering a house is to:
1. Start Small
It's no wonder why some many people feel discouraged to declutter their homes of unnecessary junk. "How and where should I start from", you're asking yourself. Well, here's the answer: start small. You don't have to go one room at a time. You can declutter one section of the room and finish the rest the next day.
Let's say for example you want to clean your bedroom. Start with your wardrobe. Go through the clothes and ask yourself which ones you wear most often and which ones you don't. Chances are you'll even find clothes you had forgotten are in your possession. When you start small you won't be overwhelmed by the huge loads of items. You will also have a feeling of accomplishment after having cleared several sections. Some rooms of your home might not be that cluttered, so that's an easy achievement right there.
2. Decide Which Room Needs Decluttering
Maybe your living room is not in need of having items removed. Maybe it's you garage that's full of useless junk. It's important to know in advance which room you will be clearing out and why. If you like your old kitchen furniture, that's fine, it will most probably last you other several years. On the other hand, if your living room if full of all kinds of decorative statuettes, paintings and old relics you never bother to clean, maybe it's time you got rid of them.
According to this material on how clutter affects your brain: "When your environment is cluttered, the chaos restricts your ability to focus. The clutter also limits your brain's ability to process information." It's fine to have a vase here and a painting there, but when those items take too much of your mental energy you know it's time to let them go, hence clear out the room which stresses you the most.
3. Create Your Sorting System
Should you throw it, or keep it? This dilemma will inevitably pop in your head when trying to decide whether you need that old scarf or not. The best option, in this case, is to prepare a few boxes, hopefully, large enough, and label them. Of course, you can keep it simple and have only two separate boxes. One for the trash and one for keeps. Or you can get a little more detailed and have several labeled like this: "keep", "give away", "charity", "rubbish" and "sell". These are some basic starting labels. You can add more if you find items which need a different section.
It's important to have boxes or at least bags to put all your items in after sorting. It will keep you better organized and you will hardly lose any small items. It the end of the sorting you can just take one box to the rubbish bin, the other to your living room and so on.
4. Check If It Works
As you declutter you will stumble upon old relics such as a mp3 player from your college days, a watch and maybe even a toaster. See if any of these items still work. If they do, you can give them to charity or sell them on Ebay. If not, call a house clearance company to get rid of them. Fixing is also an option, however, you should be sure it won't cost more than the actual item. Giving away broken appliances is pointless, so if it doesn't work, get rid of it.
Whatever you do with your old appliances, do it now. Don't let them sit on the shelves in you closed till the day you decide to repair them. That would make your decluttering a waste of time you'd have the same amount of junk as before.
5. Clean After Decluttering
Items, new and old, collect dust. Now image what will happen when you move several pounds of junk from your closet. That's right, things will get messy. Do not make the mistake of cleaning as you sort items. This will both slow you down and distract you from the real task at hand. Sort your junk first and clean after that. It will be easier because your floor space will not be taken up by old clothes, folders and whatever it is you have stashed over the years.
Cleaning doesn't need to be complicated either. All you need is a vacuum cleaner and a mop to clean up all the dirt and dust left from your home decluttering.