5 Best Luxury Resorts in Singapore for an Indulgent Stay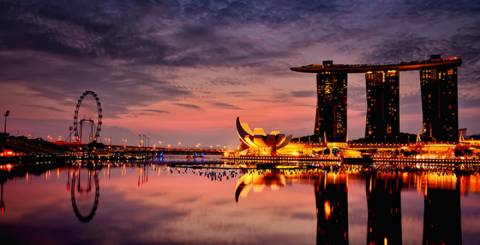 Singapore is an ultimate city that gives you an unforgettable experience. It has everything you could possibly imagine. This city flaunts scenic beaches, lush green gardens, gigantic shopping malls and more. A trip to the Lion City is a must. But any travelling experience is incomplete without a perfect resort to stay. But don't you worry; we have a list of 5 best resorts in Singapore which provide outstanding hospitality.
1. Marina Bay Sands
Located at Bayfront MRT Station, Marina Bay Sands definitely tops the list of the luxury resorts in Singapore. This integrated 5-star resort has so much to offer. The interior itself of the hotel is so lavish with modern dark wood furnishings; rooms at Marina Bay Sands come equipped with flat-screen cable TVs and carpeted floors.
Stunning views of the Singapore skyline can be enjoyed from the floor-to-ceiling windows. It is a luxury hotel that provides a rooftop infinity pool, 20 dining options, and a world-class casino. It also has a convention centre, which is one of the largest in Asia, a theatre, the ArtScience Museum and other entertainment centres.
Love shopping? Marina Bay Sands has close to 93,000 meter2 of retail space with over 300 stores and F&B outlets, with boutiques such as Ralph Lauren, Chanel, Cartier, Prada, Gucci, Hermès, Emporio Armani, Chopard, REDValentino, Dior, Dunhill, Vertu, Miu Miu, Saint Laurent Paris, Salvatore Ferragamo, Montblanc, Blancpain, an Hermès watch boutique, and Herve Leger.
It also has an indoor skating rink made by synthetic ice.
2. Shangri-La Rasa Sentosa Resort and Spa
It is the only beachfront resort that is conveniently located within a 15-minute drive from the metropolitan city-state's centre. It is also next to numerous attractions including Southeast Asia's first Universal Studios, S.E.A. Aquarium, KidZania Singapore, MOSH!, iFly and Mega Adventure Park. A variety of activities can be done here ranging from kayaking and swimming to swinging on the Flying Trapeze. This hotel also has a number of various activities to indulge kids from ages 5 to 12 in the Cool Zone, which is one of Singapore's largest children's clubs.
For nature lovers, there is a special Nature's Corner where different types of trees and plants to enjoy. Here, you can also learn various tips about gardening. Right in the centre of the hotel is a large, iconic outdoor swimming pool which attracts many. If you are planning to go to Singapore with your entire family, especially kids, then Shangri-La Rasa Sentosa is the perfect place for you.
3. Ritz-Carlton, Millenia
The Ritz-Carlton, Millenia Singapore is a world class hotel which is perfect for both business and leisure. It provides a breathtaking, unobstructed view of the city's skyline, Singapore River and the Marina Bay. What's more interesting is that you can enjoy this panoramic view even while indulging in a bath; thanks to the huge octagonal windows beside the bathtubs. At 20-30 minutes' drive from Singapore's international Changi airport, this hotel boasts a 4,200-piece contemporary art collection, including works by Frank Stella, Andy Warhol and Dale Chihuly. Other attractions include a 7-acre oasis filled with landscaped gardens, tropical plants and a swimming pool. Fitness centre and spa are the additional perks of this hotel.
4. Mandarin Oriental
Mandarin Oriental, Singapore is located in Marina Centre. This luxury hotel is within a 10-minute walk from Esplanade Mall, Esplanade Theatres, and Raffles City. Singapore Flyer and Asian Civilisations Museum are also within 15 minutes. The Singapore Flyer, which is a gigantic observation wheel, is visible from the hotel.
You have access to 2 large ball rooms, 13 suites and boardrooms for meetings, and a number of function rooms of varying sizes. Other amenities at the hotel include a 25-meter swimming pool, a fitness centre, and the Spa. The hotel also has 6 restaurants and bars.
The Oriental Club Lounge is located on the top floor. This lounge provides facilities like meeting spaces, complimentary cocktails, and panoramic views of the Marina Bay. The Oriental Club is the largest hotel lounge in Singapore. The Spa at Mandarin Oriental comprises of six treatment rooms, including two couples' suites, a separate manicure-pedicure section, a reflexology area, a tea lounge for relaxation, and one-to-one consultation areas. The best part about Mandarin Oriental is the pool area, which provides excellent services.
5. Raffles Hotel
The Raffles Hotel is a colonial style luxury hotel which boasts an elegant traditional look. It was first opened in 1887. Of course, it was later extend and renovated. This hotel was also declared as the National Monument of Singapore a century after its opening. Though very old, it has maintained its colonial style which makes it different from the rest of the hotels. This magnificent building resembles the look of a palace with marble colonnades and teak verandas.
The hotel has fifteen restaurants and bars, the most famous of which is undoubtedly the Long Bar. It also has Raffles Spa, outdoor swimming pool, Raffles Hotel Shopping Arcade, Jubilee Hall theatre, Raffles Hotel gardens, a well-equipped gymnasium, and executive centre. If you want to have a palace with king sized experience, Raffles Hotel should be at the top of your list.
The hotels listed above are the best ones in Singapore. They all provide world class amenities and a luxurious stay. So, if you are planning a trip to Singapore, make sure you select among the appropriate Singapore tour packages that guarantee a stay at one of these hotels of your choice. What are you waiting for? Fly to Singapore and discover the zenith of hospitality by staying at these amazing resorts.