5 Benefits of BPO Services with Multi-Channel Customer Support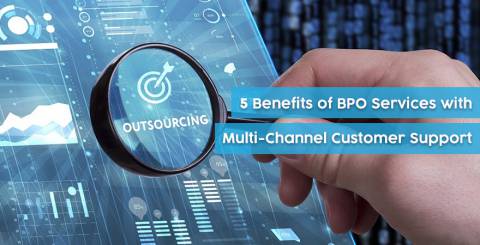 Customers are like babies. They want all the attention of the business provider, whenever they feel like interacting. Moreover, with the on-going trend of personalization, customers want to connect with the business anytime at their convenience. BPO services work best for this purpose and satisfy customers' demands.
Business consumers are never satisfied. They need continuous information or guidance from the company's customer services to use the product or service to the fullest. Thus, it has compulsory for companies to open communication gateways of all sorts for their customers.
Learning about customer's demands and making efforts to meet their requirements strengthens customer relationship management. Customer services centers or to be précised, call center services help businesses in this venture.
It is not feasible for a business to run a call center by its own, but a business process outsourcing company happily takes this responsibility.
Multi-Channel Customer Support Centers- Explained
When customers expect this much from the business, they need to leverage multi-communication channels instead of the single communication channel.
Multi-channel contact centers are the call centers that provide services via phone, email, social media, SMS, and more. Hence, several communication channels operate at once to offer customer support services.
Benefits of Multi-Channel Contact Centers
How this approach helps businesses? The answer to this question is listed below.
1.Single-View Data Hub
Multiple channel contact centers use different mediums to communicate, but this approach helps to gather all information at one place.
For Example,
If a customer switches between different interactive channels, that is, from email to social media accounts, you still have all of his information at one place.
BPO services better support customers via this method. All of the information is easily accessible. A single view of customer interaction makes for a personalized experience and assists in improved customer support management with an in-depth understanding of the customer's preference.
2.Improved Customer Engagement
Low customer engagement harms the business image. If you have a multiple-channel contact center, you can see more engagement in the customer support BPO services.
For this purpose, business process outsourcing services need to revamp communication channels. Customer engagement rate increases when there is someone to interact with customers all the time. Multi-channel customer care support takes this responsibility and helps strengthen business relationship with customers.
3.Better Selling Opportunities via Customer Support BPO services
Multi-channel customer support services understand the customers' needs and thus can give appropriate suggestions for sales. This can be a huge help in improving marketing services and business performance.
Moreover, this approach of hiring business process outsourcing company for multi-channel customer support gives agents an idea about the previous history of the customer. They have a database of each customer, interacting through various channels. They then, can better satisfy customer's queries and offer personalized solutions with more intelligent practice.
4.Enhanced Effect of Marketing Campaigns
Marketing channels have also turned globalized and multi-channel. More prospects are explored when the marketing campaign touches the target audience via various mediums.
When customers see a marketing campaign, they interact with business and might ask different questions or comment. BPO services for customer support cater to all these customers in an efficient manner and direct customers on the right track.
In this way, when customers interact with the business, they are easily translated into valuable leads because they already have all the necessary information.
The multi-channel marketing campaign in alignment with the multi-channel customer support is an excellent tool to generate desired marketing results.
5.Superior Customer Support System
When customers have easy access to a business, they tend to be loyal to that brand. The multi-channel approach of BPO customer services can easily resolve issues before they become serious.
Confused customers rely on immediate support and multi-channel BPO services provide instant help from every source.
Customers' expectations have risen to a remarkable level thus, BPO services providers also need to adopt the latest strategies. The multi-channel approach support customers, and thus, improvement in ROI becomes easy.