4 Space Saving Work Van Storage Ideas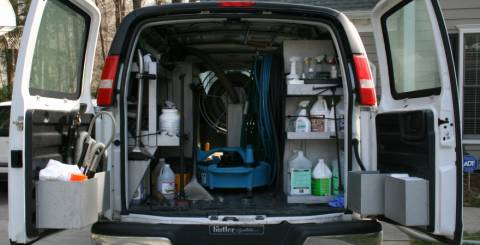 It is not surprising that two vans of a similar size and model can carry significantly different amounts of cargo. This is results from creative use of space and the design of your storage system to meet your unique needs. Work vans are used to transport different accessories that vary in size and shape. This means that each technician or van-owner should have a personalized design and installation to meet these unique needs.
Work van storage space depends on the cargo to be transported. Space is available in different sections of your van including the exterior roof, interior ceiling, floor, walls and doors or windows. Each of these spaces can be used for storage as long as necessary modifications are done.
But what determines the kind of van storage units you choose for your vehicle?
Goods or items to be transported: vans can be used to transport metallic tools, agricultural products, fragile glass and even animals like chicks or rabbits. Each of these goods will demand a different type of storage unit in terms of space provided, size of the units and specific features like cushioning, locking mechanism, lighting and space. Discuss your needs with a professional fabricator to ensure that the system installed fits the uses of your van and meets your expectations.
Use of the van: there are vans used exclusively to transport accessories. Others are for multiple uses which could include transport for technicians. Uses will determine the type of work van storage units installed. It also determines whether the units are permanent or removable.
Space available for the units: do you want to install the units on the entire van or only a part of it? You should also consider whether the units are being built inside or outside. Only a few items that would not be damaged by exposure to the sun or rain can be carried outside. They include ladders and some plumbing accessories. Others need to be fastened inside to avoid exposure to heat or water. These are considerations that professional fabricators will make when designing your storage system.
Budget: how much money are you willing to spend in the storage units? Some units are expensive depending on the materials used and the features to be included in your units. Transport of accessories like metallic tools might not require special considerations compared to glass panes. These special needs will affect your budget.
Each van owner needs to make an independent and evaluated decision on the storage unit to install. There are numerous options depending on personal preference and the features you need from your unit.
Here are some of the space saving work van storage ideas to enhance space on your van.
In Built Shelving
This provides an excellent way to separate tools or different types of cargo and leave the main bed on the van clear. It helps you separate the small and large tools and will give you an easy time when retrieving them. The shelves can be locked or open depending on cargo on transit. Ensure that your vehicle maneuvers will not send the cargo tumbling.
Storage Bins
Storage bins are similar to drawers but require a frame. Each bin is built of a different size depending on the items to be carried. This option is perfect when carrying small-sized goods or accessories. It makes it easier to retrieve the cargo and even transport it to the point of use. For instance, a technician can store nails and clips in bins and quickly run with them to the point where they are needed.
Racks
The Ladder rack is installed on top of vehicles. They are used for holding ladders and accessories like pipes, instead of storing them inside the van and occupying space that can be used for other tools more conveniently. Racks make it easier to retrieve these tools and thus reduce your deployment time. The racks will also hold tools and accessories that are of unconventional shape.
Storage Boxes
Storage boxes are installed on the deck of your vehicle or can be fixed in other convenient places like the body. A work van storage box is designed depending on the needs of the vehicle owners. It should hold the items in transit securely and protect them from damage or loss.
Other space-saving options include the use of hooks, magnetic strips, and chests. Consult a professional van fabricator to advise and design the best work van storage system to fit your needs. There are units and designs to fit all budgets and van uses. A customized unit will perfectly fit your needs and deliver long-term value for money.