4 Amazing Uses for Storage Lockers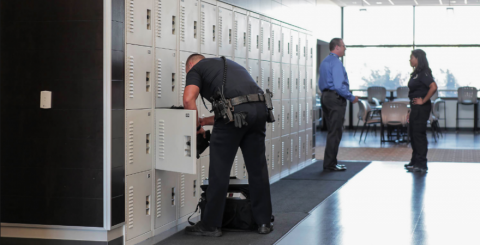 Storage lockers are often associated with the image of long lines of steel lockers found in labyrinthine school hallways. Many television shows and films set in a school almost always feature a scene or two, whether in passing or as a focal point, of characters hanging out by their storage locker. Obviously, storage lockers aren't just found in schools. You may not notice it, but storage lockers can be found everywhere. Whether it's at the office, or at the gym, or at the airport, storage lockers stand silently, just waiting for the next person to make use of them.
There is a reason why storage lockers are ubiquitous. People need a way to safely store their belongings, regardless of who and where they are. People can't bring everything they have everywhere, and storage lockers allow people to safely deposit their valuables as they go on their business. Storage lockers also improve safety in the workplace by proving a place to store hand tools and other dangerous equipment rather than leaving them lying around.
One of the main advantages storage lockers hold over ordinary cabinets is a higher degree of durability and strength. A storage locker can be designed to hold practically any type of object without buckling, from linen and clothing to heavy tools and small machinery. Its steel body allows it to support heavy loads and to weather through damage that would utterly destroy ordinary cabinets. Some storage locker designs even allow for ventilation inside the locker.
The durability and versatility offered by storage lockers make it a necessary addition to any work and living space. Let us examine some of the many uses people have found for storage lockers.
1. Academia
One of the most iconic and familiar uses for storage lockers is in academia. Steel lockers lining the hallways allow students to store and retrieve belongings whenever they want instead of lugging everything around as they rush from class to class. Apart from hallway lockers, many educational institutions have found a million other uses for storage lockers.
School gyms and sports facilities maintain locker rooms for students and student-athletes. There they can store their clothes, shoes and other belongings while they do sports or take a shower. After breaking a sweat, students could then clean themselves and change clothes without worrying about the security of their belongings.
2. Offices
With space increasingly at a premium, more and more companies are turning to hot desking to address space constraints. Before, each employee could reasonably expect to have their own desk for all their belongings and office paraphernalia. Now that is not the case.
Today, in a time when there are more employees than there is space, one desk is shared between two or more employees, ensuring the area is used all the time. Since employees can no longer keep personal belongings at their desks, storage lockers allow them to secure their belongings while they're working.
Many companies also utilise storage lockers for storing office electronic devices and other office supplies.
3. Gymnasiums and health spas
Gyms and spas all over the world maintain locker rooms for their guests and patrons. Having an onsite locker allows people to store their belongings without having to lug them around while they are getting a massage or working out. Some of the more upscale establishments even have attendants to keep watch and assist patrons.
Storage lockers are also utilised for storing dumbells, linen and other gym equipment and spa essentials.
4. Factories and workshops
Just like commercial offices, factories and workshops often have hundreds of workers working a shift, and storage lockers allow employees to store their belongings before proceeding to the production floor.
Storage lockers are also used to keep tools and other equipment. There are two purposes for this: One, to safeguard tools from possible theft; Two, to reduce clutter and provide a centralised location for all the tools. Employees can trip on tools that are left lying around, exposing them to possible injuries.