10 Tips for Getting a Job as a Designer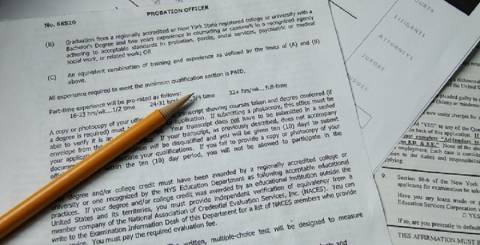 flickr, copyright-free image under Creative Commons License
 In the company where I work, we need to add a designer for our team. We decided to find a professional designer. We offered a circular in search of "Job as a designer". I hope for getting enough response through email. But the amount I received surpassed my expectations. Each of the next days the publication came to my inbox between 10 and 20 curriculum.
I checked one by one from the way the candidates presented themselves. I learned some things what i am going to share here. It will be my advice or recommendations to consider when sending your CV by mail to a grahapic design or photo editing company:
1. Add link: You should include a portfolio link to the mail, no addresses separated. Your portfolio will prove that you are experienced. You can convenience management that you are fit for job. It will clear the requirement that already you belong.  Portfolio link will work as an evidence of you skill. So, make a portfolio site containing your previous experience. Attach important files of your previous job. 
2. Express briefly: Be brief in presentation in the mail. It is difficult to have the time to read the texts.  It is better to have a brief presentation. Give your information in a short presentation. Don't forget to give any important information in your CV.
3. Good presentation: The CV is the first job I see. The CV of a designer must be properly designed. Clean and clear presentations are essential. Do not forget that this file is your cover letter and talk about your design than you think.
4. Express your skill: In your CV, emphasize your strengths, what do you know. Perhaps it is better to ignore and leave a little aside your weaknesses. If you can't do something well, why do I put it? Focus on; what's important, what makes you different and better?
5. Avoid bar graphs in your CV: I saw several people to use bar graphs and pie to prove their skills and abilities. You don't need to use bar graphs in your CV.
6. Be Updated: Do not include software versions, if not what you can do with it. Avoid being outdated. Do you think that you know should use the latest version of the software or you're just sending a CV outdated? In any case, it is always better to say what you can do, regardless of what software you use.
7. Take care of details: If you send a CV, beware that it is a PDF file. Be careful to include your name in the file name. Check your file that it is not filled with files named "currículum.pdf".
8. Add extra points: Express your interest to the company where you present yourself. Try to include the company name on your resume or mail. It will add extra value to you.
9. Add reference: If you have worked under an experienced person, you can add his reference in your CV. It will clear your acceptance to the interview board. You can reference your university teacher, team leader, trainer etc.
You can put down references with contact information. Of course take permission from the relevant people or companies. Sometimes an employer may try to contact with them as confirmation. If you don't inform them about the relevant person, they will face embarrassment. It will make your bad reputation to both of them.   
10. Education and Qualifications: In your CV, mention your most recent educational achievement. Don't forget to include your school, university name. Mention your result according to your certificate.
It will be fine if you list particular key modules that you have learnt. Specify your knowledge, skills which relate to a certain job. It is essential to state the time if you have worked anywhere as an internee. If you already have an internee certificate, chances will be higher in getting job.
Perhaps some of these recommendations are applicable to other areas outside the Job as a designer. I realized that these points are essential to have more opportunities in getting a job. If you can present yourself disciplined, chances will be high for getting job. CV plays a vital role for confirming your job. A good CV is the first requirement of ensuring good interview.