10 Things That Virtual Assistant Can Do For You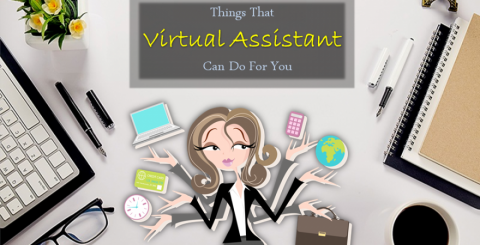 Virtual Assistants are the saviors of small business owners and many business people. They save your money, time and resources. VA helps you to earn more by working less by managing your work efficiently. But apart from this do, we know much about them or what they can offer to us? Well, let's not how they can benefit us before looking for a virtual assistant.
1. You will receive what you are paying
Are you concerned about the staff members not available during weekends? Well, full-time Virtual Assistants can solve all your problems. They are incredibly flexible in their work, and when you recruit a VA, you can get him in your flexible timing hours, or you can also work with them and discuss which time is the best for work. And the best thing is that you have to pay only for the hours you worked. The immensely talented ones can help you to maximize returns on the seasonal sales.
2. Many VA's can do much more than you think
You might be thinking that Virtual assistants can do just clerical or admin work, but they can do much more than you think. Moreover, you can also outsource any task to them.
a) Consulting and Strategy
b) Financial Statements
c) Customer Service
d) Social Media Management
e) Content Creation
f) Web Design and lot more
3. Wide knowledge
Full-time Virtual Assistants has an extensive range of skill and expertise as they have worked on numerous projects. Hence, they will give you expert tips and tricks to get the work done quickly. And in fact, you don't have to depend on a manager who is asking them to search answers on their own.
4. Available at Low Cost
Virtual assistants are much affordable than the office-based and full-time employees as they minimize the office related expenses by paying only for the work completed. They charge you much lower than the daily work done.
5. Highly Disciplined
Virtual Assistants have gained immense discipline from their work, and they know if they don't offer best quality work to their clients, they'll get fired from their job.
6. Amazing CV's
The VA profile is just incredible as they are the persons who have already worked in the office field and now they are settling for the work-life balance. They are talented persons who just prefer to not going physically to the office.
7. Fast Searchers
VA's are like hustlers means that you don't need to tell them what to do rather than they will search the net and find highly effective and innovative methods to complete your work speedily. They are highly passionate and feel pride in their work done.
8. VA use software offered by their employer
A full-time virtual assistant completes your project with the help of software given to them by the company that has recruited him. You don't need to spend extra on the computer programs and tools required for the completion of your projects.
9. Your every personal detail is 100% secured
Worried about losing your company's information in the weekend parties? Well as a client, Virtual assistants assure that all your sensitive information related to your business is wholly secured. And you will always be kept hidden when never you recruit a VA.
10. Completes all tiny tedious tasks
Being a small business owner, you have a shortage of time to complete all those tedious everyday tasks, and the full-time virtual assistants will help in achieving that to keep your business well flourishing. Because as a business owner you have to wear numerous hats and VA help you to do all your administrative work in time.