10 Geometric Decor Pieces for a Modern Bedroom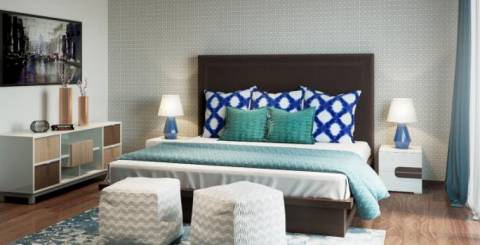 Everyone loves to have a beautiful house that fits in their today's needs. And the easiest way to get that touch in the house is by getting the genuine décor.
Bedroom, in the entire home, deserves to be very peaceful and accurate to get the proper sleep. So you have to get the right décor for it. And in case, you want to dive into modernity, nothing can beat the perfection of geometric décor pieces. It is full of aesthetics and edges and adds comprehensive touch to the home decor. So here are 10 décor pieces that will make your bedroom look modern.
3D Geometric Himmeli Hanging Piece: Himmeli shape has the contemporariness because of its 17-sided look. It is quite versatile and gives an elegant frame look. You can get the solid 3D Himmeli Hanging made up of metal and fall in love with its grace. Don't forget to choose its size wisely.
Diamond Decorative Mirrors: Rather than getting normal mirrors for your bedroom, get them in Diamond design. It will add a modern touch and reflect enough light. Also, they will look sleek and grab everyone's attention. It will look the best in the copper frame and chain. Hang it using chain and enjoy its linear vibes.
Modern Geometric Triangular Table Vases: You can also get the ceramic vases with the brass holding for your bedroom side table and enjoy its versatile look. These stylish planters have a comprehensive design and effortlessly gives modern vibes to the room.
Geometric Terrarium Modern Tabletop Planter: If you want to bring plants in your room in a versatile way, simply get the geometric Terrarium Modern Tabletop Planter for it. It will have the glass design and metal frame and holds the plants in it. This is small and versatile.
Isometry Geometric Area Rug: You can't call your Room complete without a Rug. So rather than getting something boring, Bring an Isometry Geometric Area Rug. It comes with a triangular pattern to add luxury and elegance to the room. And the best part is that it leaves a lasting impression on the eyes.
Iron Wall Shelves with Vintage Wooden Holder: This decorative piece can be used as a storage option and you can display anything on it. It is multi-purposed and adds edgy vibes to the room. The best part is that these are found in many different kinds of wood, you can get it as per the room design.
World Map Geometric Art piece: If you love to travel, then this geometric world map will be the best décor for you. These get easily hanged on the wall and change the overall aesthetic of the room. You will admire it's mural and wanderlust vibes.
One-Light Indoor Pendant Light: Pendant Lights has modern vibes and make their room brighter while maintaining the overall geometric theme. These are generally hanged alone, but you can add them as per your wish. You can get them in metal and glass vibes to perfection.
Geometric Mid-Century Canvas Wall Art: You can easily bring Geometric and modern vibes to your room by adding a canvas to it. Get it with Mid-Century Geometric Art for a museum-like look.
Cotton Geometric Throw Pillows: You can get the beautiful throw pillows with a Geometric pattern for your room and fall in love with its memorable appeal. You can buy modular furniture online and add these pillows to it for more impactful vibes.
These geometric home décor helps in adding modern character to your bedroom. Get the right furniture like bed, side tables, and chairs online and give a perfect makeover to the room.