Why Traveling Is a To-Do Thing in Life?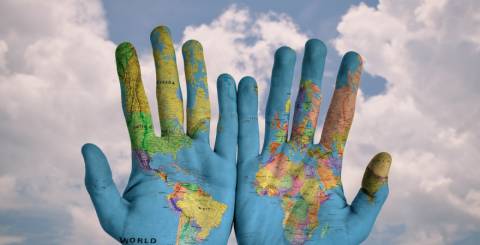 Travel means "to move" whether it is to move from our bad experiences or choices or from our past. Moving forward is life and if you want to live life to its fullest, we should include travelling as a part of our life.
Technically traveling means movement from one location to another. Traveling means to explore. The very important trait of human beings which helped us to develop as the most intelligent species on this Earth is exploring this planet. From times ancient till today, our race has been exploring something new i.e. from fire to stars.
Why Travel:
1. Don't see the world through your windows:
Looking at the world from your bedroom window is good but if you want to see the real world, you should step outside from your window i.e. from your comfort zone and see the world in its true colours. The more you understand the world, the braver you will be.
2. The world is your Family:
In Sanskrit, an ancient Indian language there is a saying "Vasudika kutumbam". Here "Vasudha" means Earth and "Kutumbam" means Family i.e. the earth is our family. The whole earth is like one family. Though we differ in colour, race, country, religion yet we are the same species throughout the planet. Traveling helps to know different people, places, their traditions, cultures and a lot of new experiences. It helps to know our family more and to strengthen the bonds with them. The more we united, the stronger we are.
Let's make a resolution that every year "I will visit a new place and will learn something new". It can be a new shop, pub, garden, restaurant, new cuisine etc in your city or country or outside country depending on your finances. 
3. Find Yourself among a million stars:
When you are lost in a chaos, with your bad life experiences or memories or your daily routine, travelling helps you to find yourself within you. Take a spiritual tour or a nature tour to heal your inner self. Experience the calm and serenity of nature in mountains or in a forest or in the waves of a beach etc. Soak yourself in the warmth of mother nature and see with your eyes the beauty of creation. Get inspired by every other living being whether it a bird or a predator or trees or plants. If you see, you can learn something from everything in this world. Start your journey within you. At some point, you will realise that what is present in nature that is present in you as well.
4. Go with the flow of  a River:
If you are stuck in your life and do not have any idea what to do or how to or where to go, then let go all the pressure. Simply plan a nice trip to where your heart says and forget the world behind. Let the emotions flow like a river and simply enjoy the trip. Sometimes it is best to let go all behind and move forward just like a River and a river trip will help.
5.  A Bucket full of memories:
Memories are a treasure which no one can steal. Everyone has their own bucket full of memories whether they are sweet or bitter but they make the life. Fill your bucket with your travelling experiences and the cherished moments. This bucket can be a guide to someone in their journey. We may forget the places or faces we visited but we cannot forget the memories we take with them.  
So, folks are you ready to include Travelling on your TO-DO list, and then let's get started. Start your journey!