Why Flowers are the Perfect Gift For Any Occasion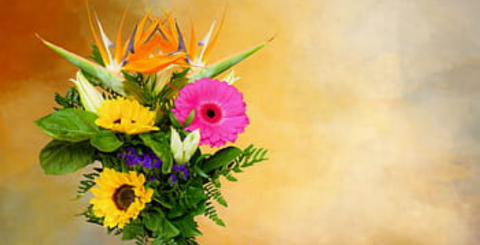 Flowers beautify life. And to put a smile on someone's lips, a bouquet is just the thing.
Flowers are a very popular additional gift, especially for birthdays, weddings, as a declaration of love or just as an everyday gift. But what do you give to mothers, friends or colleagues? Each flower has a specific meaning and conveys a very special message ...
The friendly sunflower
Hardly any flower expresses more happiness than it! With the sunflower you say to the recipient: "The sun rises through you!" This colorful flower, which is not without reason compared to the majestic sun, stands for joie de vivre, happiness and warmth. Above all, the sunflower deserves favorite people - maybe the best friend who always makes you laugh or your sweetheart who conjures up the sun in your life every day?
If you want to tell someone special that you like them, this flower meaning is just the right choice. Also, it is not only beautiful to give away as a bouquet but also as a single flower. The sunflower blooms between July and August, making it a flower that can be given away as a symbol of summer. Maybe you are going on a romantic bike tour with your loved one past a field with sunflowers? Then be sure to stop briefly, because this happy flower will make your loved one shine and leave a very special memory of that day ..
The beautiful orchid
The orchid can be compared to the beauty queen Aphrodite from Greek mythology. It embodies beauty and is therefore often given away to women. So if you want to give the orchid to your chosen one, you are telling her: "You are beautiful!" This can apply to both the inner qualities and the outward appearance of a person. This makes it a perfect wedding anniversary gift, for example, to tell your loved one again how beautiful it is for you!
The unique ranunculus
The ranunculus not only has an unusual name - its flower meaning also stands for uniqueness! As a spring decoration, it delights in the cool, dark season. Because fresh ranunculus are already available in different colors in February. Ideal to tell your favorite person that he or she is something very special for you. Besides, the ranunculus is ideal as an everyday gift to simply deliver a sweet message.
The popular gerbera
The gerbera is also ideal as a small gift in everyday life. If you want to give your grandma, a friend or your mom a treat, give her a bouquet of gerberas! With this beautiful and colorful cut flower, you cannot express a compliment to the recipient better. Because with the gerbera you convey to the gifted person that the world is simply beautiful through them!
The passionate rose
The classic among flowers and known to everyone is the red rose! It is the most important symbol for love, romance, and passion. Would you like to convey the message "I love you" to your sweetheart and give away a flower or a bouquet in addition to a romantic present for the day? Then no flower is better than the red rose. But watch out! Not every rose conveys the message of love. The white rose, for example, stands for purity, innocence, and a love that may not yet have been expressed. However, it is still very popular for bridal bouquets or as a wedding gift . Would you like to give away beauty and youth and your love maybe just at the beginning, then rather reach for the pink rose for your loved one.
Meaning of flowers roses, The shy violet
Hardly any flower is as delicate as the petals of the violet. With the violet, you generally express innocence, modesty, and restraint. Are you not ready or too shy to express the magic words of love even if you already feel them? Then ask your loved one for a little patience! Maybe you can bring her this sweet message with a blue-violet on the next date? Who can get impatient with this sweet gesture ...?
Meaning of violet flowers, The faithful forget-me-not
The name of this flower suggests what meaning it has. Love, loyalty, and togetherness are all messages that symbolize the well-known forget-me-not. Are you in love head over heels and want to send your loved one the message that she won't be forgotten? Then this flower is ideal for this message. But don't forget, shared experiences strengthen love and create shared memories, especially in the beginning. That is why we have put together some date ideas for you and your favorite person.
Meaning of forget-me-not flowers, The ambiguous daffodil
The meaning of the narcissus is ambiguous: on the one hand, it is said that it stands for vanity and selfishness due to its origin. On the other hand, this beautiful flower blooms in springtime and brings freshness and happiness. Maybe you know this flower also under the name daffodil? This is probably because it blooms between March and April to match the Easter season. Therefore, a bouquet of daffodils is perfect for handing it over to your loved ones with your Easter gift.
Meaning of daffodil flowers. The fragrant lilac
The lilac has a very special strength and that is its unmistakable fragrance. This floral meaning stands for a beginning love. However, since the fragrant lilac blooms between May and June, we think that you can also give this fragrant flower to your mom as a Mother's Day gift . Because in addition to your sweetheart, it's nice to bring the message of gratitude to another important woman in your life, isn't it?
Meaning of lilac flowers, The happy peony
Are you missing a flower to convey the message of happiness or even recovery? Then you can grab the beautiful peony. It got its name origin peony from the Greek god Paian, who was able to cure diseases in mythology. So if you want to get well soon and you don't have the right souvenir, this flower meaning is ideal for sending the message.
Meaning of flower peony
Flowers meaning: As you can see, flowers can express many different emotions and convey different messages. Not only the type of flower but also partly the color plays an important role. If you want to give your very own bouquet as a gift, then get to know the art of flowers even better in a floristry course. The most important thing is to give away with joy!