What Does a Trip to Amsterdam Cost?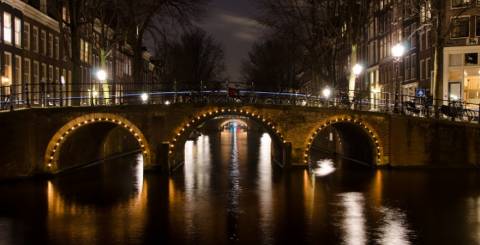 https://static.pexels.com/photos/9200/city-lights-night-water-large.jpg
Amsterdam is one of the Europe's best visited capital cities. Yearly more than 14 million people visit this historical city. But how much money would you actually have to reserve, for a 7 day trip. This shall be answered, focused on the budget conscious and young traveler.
Amsterdam in general
Amsterdam is the capital city of the Netherlands and has more than 800,000 inhabitants. This country is part of the European Union and payments shall be the euro. For that reason we will express all amounts in this local currency.
Transfer
Netherlands main airport is Schiphol and is the airport most travelers with the destination Amsterdam use. Schiphol is located close to Amsterdam and a distance is not further away than 15 km. Of course, there are multiple type of transfers to get to Amsterdam. However, we will treat the most convenient transfers.
By taxi
Just as any airport, many taxis are available at Schiphol upon arrival. However this is well organized by Schiphol. Unlicensed taxis may not at provide services at the airport. Therefore it is not likely to have a bad experience when leaving Schiphol with a taxi. Depending on the location of your accommodation in Amsterdam, the costs for a transfer to Amsterdam will be between € 25 and € 35.
By public transport
Also public transport to and from Amsterdam center is very well organized. When leaving the arrival hall, you will enter the central hall of Schiphol almost automatically. Directly below this central hall, you can find the trains leaving to the center of Amsterdam and other parts within the Netherlands. A single trip to the center of Amsterdam costs less than € 5. Via the website of "OV9292" you can easily schedule your transfer. When you will commute much by public transport within the Netherlands, then it is advisable to use their free app.
Accommodation
As a budget conscious and young traveler, you of course want to stay at a hostel. These are very cosy places to stay, because you'll make friends fast. Hostels can be found throughout the city and have various level of quality. Average starting price for one night at a hostel around the € 20. When staying in Amsterdam 7 days your accommodation should cost roughly € 120 (6 nights).
Tip:You can book your accommodation by using the following website, here you can book hostels with great discounts.
Food and drinks
Of course it is possible to make it as expensive as you want. However, as a traveler on a budget you most likely want to eat and drink as cheaply as possible.
Super market
It probably would be the cheapest to do all your shoppings at the supermarket. To get an indication of the price level in the Netherlands, there is an overview below of the basic articles. Please note, this may of course vary by brand, store and product.
Bread € 0,80
Milk € 0,60
Butter € 0,60
Cheese € 2,00
Cold cuts € 1,00
Bottle of soda* € 0,60
Bottle of water** € 0,50
Can of beer € 0,35
Bag potatoes € 1,50
Bag apples € 1,50
Piece of steak € 2,00
Broccoli € 0,80
* Please note that their is a type of deposit system in the Netherlands. This means that you pay € 0.25 and get this back as soon as you return the bottles.
** It is not necessary to buy bottled water. You can drink water from the tap without problems. If you do not have a common kitchen in your hostel, you will probably have breakfast, lunch and dinner outside the door.
Breakfast
Of course you can enjoy a breakfast everywhere, but a it is a bigger task to get your breakfast the cheapest. There are some shops with a catering facility to have a meal. V & D and Hema are examples of these kind of shops. At the V & D you can have a complete breakfast for € 4. For this price you can get a coffee, croissant, freshly baked off bread and toppings of your choice. Hema the price of a breakfast is only € 1. For this you can get a coffee, a croissant and a freshly baked-off bread with a fried egg. Based on the examples, you don't need to spend more than six breakfasts, which will only cost you 6 euros.
Lunch
IKEA could be a clever choice to eat. The food does not cost much, but you will have to take the metro to the outskirts of Amsterdam. This will cost you € 2.50 for a single journey. It will could be considerable when you have bought a day pass for the public transport. When you'd rather not traveling so far, you could visit "Trust" at the Albert Cuyp street. This is a cafe where the prices for their products are not fixed. This means you can pay what you feel like. Indeed, you're allowed to determine how much you pay for your food. It is not entirely unreasonable to only pay € 5 euro per lunch. Six days lunch don't have to cost more than € 30.
Dinner
Regarding having dinner, the same applies as with lunch. You can consider IKEA, but also for dinner there is a pay what you feel like restaurant. The name of this restaurant is called "Peper" and this is located on the Overtoom. It still could be fair to only pay € 10 for each time. Making your dinner cost € 60 for six days.
Must do's
Like many cities there is so much to see in Amsterdam and of course you can make it expensive as you want. As a budget conscious traveler you probably wouldn't spend a big amount. To fully experience Amsterdam without spending a large amount, you should do the following experiences.
Free guided walking tour
Do you want to learn about Amsterdam in a nutshell and explore the most important places? Then you definitely should participate to one of the free tours that are offered. These tours will guide through the history of Amsterdam. Participation for these tours is free, but the guides work for a tip. Although it is not required to leave a tip, a tip of at least 2 euro is appreciated. would you rather save out 2 euros, than you could leave the group before the end of the tour.
Ferry to the Northern part
Amsterdam is divided in two parts, by the IJ river. Between the Northern part of Amsterdam and Amsterdam there are public ferries sailing, to connect these parts. The view from the ferries are remarkable and the big advantage is that it is completely free.
Parks
Amsterdam has 40 public parks, which is freely accessible. If the weather is convenient, then it's worth to spend a day at one of these parks. Vondelpark is the most popular park in Amsterdam. Both locals and tourists spend some time at this park.
Museum
Amsterdam has 75 museums, which makes the city very rich of culture. World wide painters of the Netherlands are well known, such as: Vincent van Gogh, Rembrandt van Rhijn and Johannes Vermeer. The museum that is fully dedicated to Van Gogh museum, is one of the best visited museums in Amsterdam. During the high season there are queues up to a couple of hours and admission to the museum is € 17.50.
Disco
Amsterdam has 16 clubs located throughout the city, but Paradiso is the most special club in Amsterdam. Paradiso is so special because it housed in a former church. This venue hosts normal dancing nights, but also pop concerts. Various big stars have been here for a gig, such as James Brown. Average admission to the Paradiso is € 7.50, a beer cost € 2.50, you'll pay € 1.50 for your coat and the toilet is free to use. An night at Paradiso shouldn't have to cost more than € 17.50 euro, unless you have other plans…
Summary
As you see, a relatively expensive city like Amsterdam don't have to be expensive:
Transfer back and forth € 10
Accommodation 6 days € 120
Breakfast 6 days € 6
Lunch 6 days € 30
Dinner 6 days € 60
Must do's € 35
The total of 7 days in Amsterdam can cost you no more than € 261.00, which results in an all-in price of € 37.50 per day.