What is a Debt Consolidation Loan?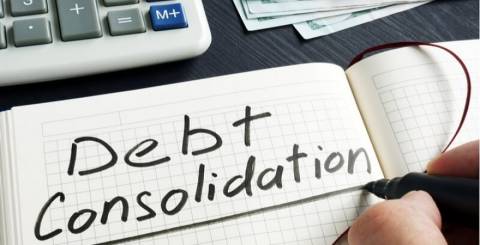 A debt consolidation loan is available to clear off existing liabilities at a lower interest rate. In this kind of loan, the borrower repays all high-interest debts with a single substantial loan and repays the latter to reduce overall accumulated debt.
Apart from enjoying lower interest rates, an individual can simplify the difficulty of maintaining multiple EMIs of different loans. Debt consolidation loans are offered by several financial institutes at fixed interest rates with the provision of regular EMI payments. However, the tenor of loan repayment varies between lenders.
Types of Loans for Debt Consolidation
Unsecured loans.
Secured loans.
Unsecured Debt Consolidation Loan
A lender accepts to provide an unsecured loan for debt consolidation to a borrower only by banking upon his creditworthiness. These unsecured loans do not require any collateral stake and are approved by the lender by reflecting on the individual's credit score. With a substantial personal loan, an individual can conveniently repay multiple debts and manage their finances at a relatively lower interest rate.
Several financial institutes, including NBFCs like Bajaj Finserv, offer personal loans for debt consolidation for easy and convenient repayment of existing unsecured debts. The NBFC provides lucrative benefits such as financial assistance up to Rs.25 lakh as well as repayment-friendly tenor options of up to 60 months.
They also provide pre-approved offers on such credits, which save your time from the tedious application process. These offers are also valid on other financial products like business loans, loans against property, home loans, etc. You can also check your pre-approved offer by just entering some necessary information like your name and contact details.
Documents Required to Avail an Unsecured Debt Consolidation Loan
Important documents required while applying for a personal loan to consolidate debts are listed below –
Address proof that includes Voter ID card/Aadhaar card/Passport/Driving License etc.
Identity proof that includes Voter ID card/Aadhaar Card/PAN card/Passport etc.
Property ownership documents.
An individual has to produce his Income-tax return files for the last 3 years.
An applicant has to produce his Income proof that includes salary statements from the bank of the last 3 months.
Apart from the above-mentioned documents, the borrower is required to meet specific eligibility criteria to avail this credit.
Eligibility Criteria
To enjoy faster loan facility, you need to meet the following requirements –
Applicants have to be an Indian resident.
Applicants must be within 23 to 55 years of age.
Applicants should be a salaried employee of an MNC.
Secured Debt Consolidation Loan
A secured debt consolidation loan is where an individual mortgaged property or pledges any other asset for the loan amount. The property has to be either commercial or residential and the applicant should be the owner or at least the co-owner of the property. For any other asset, you will need to follow up on the same.
Benefits of an Unsecured Loan Over a Secured Loan For Consolidation
Unsecured loans do not impose property confiscating risks over the borrower. However, in secured loans, the lender has the authority to seize your collateral property if you fail to repay the loan within the stated tenor.
The procedures involved in availing an unsecured loan are swifter than a secured loan.
Mentioned above is a detailed debt consolidation guide through which one can benefit with substantial knowledge about the critical aspects of availing debt consolidation loan. Individuals should avoid certain mistakes when you avail debt consolidation loans such as availing more than the required amount as a loan or acceding to high-interest rates. Referring to leading lenders with a near to healthy CIBIL score can help to do the same.
Similar Articles
The wonderful thing about the internet is that it puts a wealth of information at our fingertips — meaning there is a lot of information floating around about debt and the process of settling it