What Causes Smoke to Come from the Exhaust Pipe?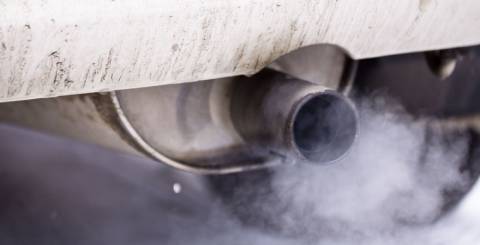 When driving on the road you might have often faced a situation where you find yourself surrounded by a thick smoke which is usually coming from its exhaust pipe. White, blue or black smoke from exhaust coming from a tailpipe is a common problem. However, it is a huge environmental issue as it contributes toxic elements to the surrounding atmosphere as well as water bodies. Not only this, it causes various breathing problems to the surrounding people.
Furthermore, your automobile won't be able to clear the smog test if it emits white smoke. When a vehicle has a tainted exhaust it shows huge emissions of toxic smoke. Many countries don't even provide the option of registration renewal for automobiles that are doesn't pass a smog test.
In this guide, we will discuss the types of smoke that come out of car's tailpipe and what does it indicate.
What does a white smoke from tailpipe mean?
Many drivers often misunderstood white smoke as a regular tailpipe emission. But when you see white smoke billowing from your vehicle's tailpipe and it doesn't deplete like the emissions from the exhaust of other automobiles, then there is a problem.
When your automobile's exhaust release white smoke it shows that the coolant has entered into the combustion chamber. You may need to face a huge repair bill if the engine coolant enters into your engine's cylinders at any time. A common cause of white smoke coming out of the tailpipe is a head gasket leak. It can happen due to the warping of the cylinder head, overheating of the engine or burning of the gasket. You should not overlook if your engine gets overheated due to some major issue. Other than this, a cracked engine block can also lead to white smoke.
Blue smoke from the tailpipe
This is an equally bad condition as in the case of white smoke from exhaust. Whenever you observe a lingering cloud of blue and white smoke from your exhaust it is due to the burning of oil in the combustion chamber.  When this happens, you will experience an illuminated check engine light and a rough run from oil-fouled spark plugs.
It usually occurs because of the worn-out or damaged engine parts. Basically, when the piston rings get worn out they lose their ability to seal properly or the valves in cylinder head start leaking. This type of problems is more common in classic or late model vehicles. It would be probably correct to replace your engine which will eliminate the blue smoke from exhaust.
Black Smoke from Exhaust
Whenever you observe a black cloud of smoke coming out of your tailpipe, it could be a major problem that should be fixed quickly. However, it is probably very easy to fix this issue in contrast to the above-discussed problem. This is because of over-fuelling. When your engine gets over fuelled it start dumping more fuel into the cylinders and it is not able to properly burn it. This increases the number of hydrocarbons coming out of the tailpipe.
When it comes to repairing this issue, you may need to replace the clogged air filter or there can be an accumulation of contaminants in your fuel system. For instance, leaking of a fuel injector into the cylinder or it could be an issue with the engine timing. Whatever the cause is, you will need to extensively fix the black smoke.
What to do when your car vehicle starts to smoke?
You should not neglect the issue when your automobile starts smoking blue, white or black from the exhaust.  In fact, you should get it inspected by a professional mechanic instantly. Or else, you may need to incur some other additional repairs or damages that may happen in future. It can take several days or weeks to repair a smoke emission from the tailpipe or a head gasket replacement to correct white smoke. Plus, if you are looking for rebuilding your engine it could need around $1000 and several weeks.
What to do when it's too late to fix the problem?
If you have made the delay and vehicle got damaged then you need to analyse yourself off with the help of the mechanic what is suitable for your budget. If the fixup's cost going beyond the worth of the vehicle then good to sell your car to the cash for car service and get the best price for it.