What are Custom Business Applications and What are its Benefits?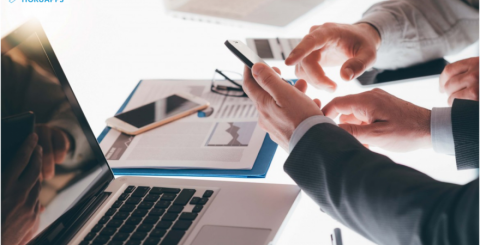 Business applications or enterprise applications are software used by businesses to assist in solving everyday challenges. While very small businesses (<10 employees) can use off-the-shelf apps, other businesses require applications that are tailor-made and adhere to the organizational architecture and hierarchy. Hence, the need for custom mobile app development services.
Here are the key benefits of Custom Business Applications:
Streamlining Processes with Custom Solutions
Custom enterprise apps are used to simplify business workflow. While off-the-shelf apps are cheaper, the solutions are not tailor-made and thus, require changes to the software which is expensive and time extensive. Since these custom mobile apps are fully-customized to suit individual departments, employees do not face interface problems.
App-Affordability
Traditional app development creates apps that are native. For example, an Android app is made from scratch and using Android languages like Java and Kotlin. The process is linear and iterations are difficult to make.
On the other hand, rapid custom mobile app development creates apps using pre-built technology which features automated libraries of mobile app development elements. The resulting solutions AUTOMATICALLY work on Android, iOS and the Web. Thus, developing and deploying cross-platform custom mobile apps in days or weeks.
In other words. AUTOMATED PROCESS = AFFORDABILITY
Enhanced Security:
Security is a priority for all businesses as data is a core element. Moreover, customers and business partners expect their banking and business data be kept confidential. This is why need to use Amazon AWS's services.
In addition, AUTOMATICALLY incorporates industry-best security features in the enterprise apps. Security features include single sign-on authentication and banking-grade firewalls.
Scalability:
Custom mobile apps enhance business-value with solutions that are catalysts in every businesses' growth story. And growth equals an increase in a number of users and at times, foraying into newer product/services avenues. To do this, businesses need to scale their apps.
Custom mobile apps development platform features inbuilt scalability features, which curtails the need for businesses to create new apps. Enterprise apps can be scaled to suit future requirements with technology components integrations and such.
While We need to realize that all businesses are different in myriad ways, there are some key functions that all businesses require. They are:
Business Intelligence:
Business decisions need intelligent data for better decision making, to help understand where the business is doing well and where there are bottlenecks. Moreover, business intelligence is required to understand changes in customer demands and for forecasting. With a granular reporting engine and customized dashboards, custom mobile app development can revolutionize any business. The mobile app development platform integrates this functions AUTOMATICALLY in all the apps.
Secure Communication Framework:
A business is only as good as the collaborative environment it works in. Every individual, team, and department must be able to communicate in real-time, share content, create tasks (assign them and create deadlines) and prioritize them.
Automated Billing Systems:
Before payments are made, employees are tasked with the rudimentary work of creating and sharing invoices manually. To make this backend process simpler, Custom mobile apps include the option of creating and sharing invoices in real-time, via email, push notifications and/or SMS.
Payment Processing:
Every business needs to pay business partners and allow them/customers to make payments through secure payment gateways. It is highly convenient for business-persons/customers to pay via the app, thus, helping them save time with secure payment features.
Conclusion:
As business has to generate a large revenue for that business mobile application is the necessity and to build that one custom business app is the finest way to lead the market in less span of time. So we can say Custom Business Application will give you higher benefits than another way.