Ways to Help Your Child Get Used to a Babysitter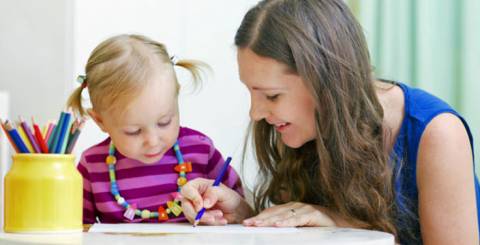 Leaving a child with a babysitter is one of the heartbreaking moments every parent has to experience. It's hard not only on a working mother/father who has to leave her baby in the babysitter's hands to be able to earn for living, a parent who has to go run errands, deal with other duties or spend some quality time with family, friend or significant other once in a blue moon. It's also quite difficult and emotional for kids, especially for those who have stranger anxiety or who're not used to staying with a babysitter just yet.
Luckily, there're a few things you may do to ease your child into staying with a babysitter and make the transition easier for both of you.
One of the most important steps, of course, is finding a professional, caring and friendly babysitter your child could like as a person and feel comfortable playing with. Then, you need to prepare your kid to the idea of a nice person coming to the house to take care of him/her while mommy and daddy are away.
These tips will help you do that more efficiently.
Try to reduce the separation anxiety
One of the hardest things for you and your child in this entire process is actually you walking out of the door and saying goodbye.
Thus, ask the caregiver to come a little bit earlier than your 'out of the door' time so that she could start playing with the child, engage him/her in an entertaining activity or continue the daily routine before you go, as well as distract the child from you leaving if needed. Additionally, you may arrange a few days when you get to stay with your child and a babysitter for a few hours straight to help your kid to get used to the new person.
Leave quick, but never disappear unnoticed
Don't get too emotional as well. Don't drag the departure time for too long, don't say your goodbyes a million times, don't express your worries in front of your child not to make him/her even more anxious. A quick kiss and 'Be good for …" will do the best.
But, the thing you should never do is sneaking away, as it will only increase your child's fear of you leaving without him/her. Ensure that your child, even if he/she is only a baby, knows that you're leaving and always promise to come back.
Start transitioning in advance
The abrupt change is the most stressful part of the transition. Thus, aim for a smooth transition and move in baby steps. For that matter, hire a babysitter a couple of weeks before you actually need her services to be able to start exposing your child to her a little bit at a time, help her get to know your kid better and prolong the time of your leave gradually.
Make sure that your kid remains within the same routine
It's rather important to sit down with your babysitter (occasional or regular) and talk through the child's schedule and routines regardless of the kid's age so that he/she has the same structure to the day as he/she is used to.
This will reduce the stress your child may experience when staying with a babysitter, as well as improve the comfort levels. Even such details as the toys your child has to have in the bed when going to sleep, the number of stories you read before the night time, the foods your little one likes to have for lunch, etc. make a huge difference.
Stay strong
It's easy to give in and run back to your child when you hear how he cries seeing you live or when the babysitter tells you that your beloved kid is begging for you to come back. If a babysitter is a necessity for your family, you should power through the first difficult days to be able to do your thing peacefully in the future.
The high level of mutual trust and understanding between you and babysitter, the strong communication between parents, caregiver and the child (if the age allows, of course), frequent checks and quality time with your kiddo will help you overcome the challenges and get your child to feel safe and comfortable with his/her babysitter.
Make it exciting
Talk to the babysitter and discuss a special thing she can do with your child during the time you're away. If they manage to develop a special connection and a common thing they do together (like, go on a walk to the park, play games the nanny brings, do a certain craft, etc.), your child will anticipate the babysitter's arrival with excitement instead of feeling sad and ready to miss mommy/daddy the whole day.