Top Tips on Moving Abroad with Children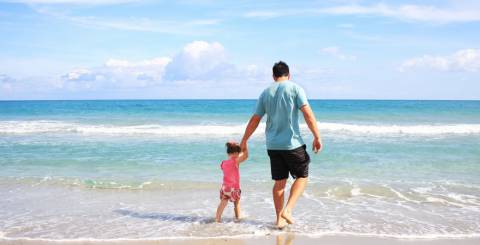 Moving to a new house is a big change and adjustment for anyone but when you're moving abroad the impact can be even greater especially on children.
The effect that moving abroad may have on children is often overlooked because we frequently think of children as being easily adaptable, which is true in many ways. However, a change as big as moving abroad can affect them more than we might expect.
Starting a new school, making new friends and leaving loved ones is hard on a kid as they won't understand why they are having to do that and so it's important as a parent to make the transition as smooth and easy as possible.
The benefits of moving abroad with children
Even though moving abroad may be hard on your children there are many advantages to taking them to live in a new country.
Healthcare
Depending on which country you are moving to, the healthcare can often be better quality than what you are used to and this will mean your children can benefit from better medical treatment if they were to need it. Norway, Sweden, Canada and Australia are just a few countries that have some of the best healthcare in the world.
Education
Moving abroad can also mean better education options. Again, depending on which country you are planning on emigrating to the quality of teaching might be better, the opportunities might be greater and the extra-curricular activities may be preferred.
Experience a different culture
Moving to a different country will expose your child to a new culture which can often encourage their development and help them to appreciate the opportunity they have been given.  
Learn a new language
Although learning a new language can be tough, the younger the child is the easier they will pick up the language, children are like sponges don't forget. Encouraging your child to be bi-lingual will not only increase their opportunities when it comes to schooling and future career but it also means they will be able to make friends easier and connect with their new home country better.
The challenges of moving abroad with children
Of course, moving abroad won't come without its challenges and there are a few things that your child may struggle with.
Separation from family and friends
This could be the hardest thing for your child to deal with. If you're leaving lots of loved ones such as grandparents and close friends this could upset your child but there are lots of ways you can try to soften the blow of leaving them behind.
Language gap
Moving to a country that speaks a different language can initially be quite a shock to a child as they may struggle to communicate with others, which can be frustrating. Just try your best to introduce them to the language as soon as possible even before making the move so that they are prepared for the change.
What to think about when moving abroad with children?
There are a few specific things you should think about when you're planning on moving your children abroad that will make the transition easier on them.
Involve them in the planning process
Get them involved with the packing, house hunting and other things
Carefully consider education options
Take time to research the best options in the area and decide what would suit your children best
Throw a goodbye party and invite friends and family
Think about the location you're moving to
What's nearby? Will there be things to keep them busy?
Is the new environment safe for children? Will they be safe playing in the street? Can they walk home from school on their own?
Is it a good time to move your children abroad? Are they at a good age? Will it affect their schooling?
How to help them adjust
Once you're in your new home, your international movers have delivered all your belongings and you're feeling settled it's time to make your new home feel familiar, this will help your child adjust to their new surroundings. Make sure you put time and effort into making it their home and not just yours, fill it with all their favourite things from home and make them feel comfortable.
Try and keep routine and stability similar to what they would have had at home and aim to prioritise their interests. Find fun things and activities in the local area that they would enjoy and when you first arrive just spend some time with them doing the things that they love.