Tips to Create A Nordic Vibes in Your Bedroom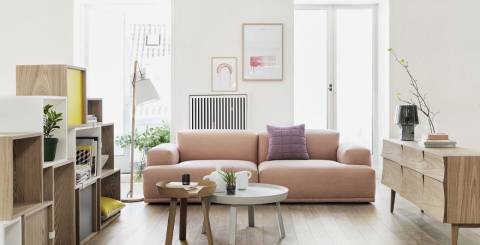 https://www.homedit.com/mix-scandinavian-designs/
The Minimalism is the right word to describe Nordic Vibes. The Bedrooms that follows the same theme are known for their dreamy and practical looks. It is a perfect combination of neutral colours, cool designs, dark shades and peaceful vibes. Having this theme in your home interior will help you to maintain the perfect sleep. So if you want to bring the Nordic vibes in your bedroom, simply add the following elements to it.
Neutral Colours
Having Neutral colours like grey, white, beige and black will help you to maintain the Nordic vibes. Whenever you are deciding the colour theme of your room, try to play with them.
Mirrors
Mirror is a must in any Bedroom. So whenever you are getting the mirror you're your room, don't go for something bold. Bring a simple style of the mirror with golden or silver elements. It will help you to create the symmetry.
Industrial Lightings
Industrial lights are found in very interesting designs, which are not bold but soothing. These have the creative vibes in themselves. So whenever you want to get the right lights for your room, go for the Industrial lightings. You will admire the edginess of these lighting.
Aesthetically Pleasing Storage
Whenever you want to get the right storage for your room, you must go the pleasing styles. Don't go for bold or bright colours. Also, get it in simple and sober designs.
Throw Cushions
The Throw Cushions helps in adding cosiness to your room. And Bedroom is incomplete without the cushions. Choose them in the neutral colour itself. You can keep it on the bed or the chair. The tufted and cosy looking ones are super amazing 
Plants
Adding plants to your bedroom is the best way to make it look peaceful. Nordic vibes are all about peaceful and natural elements. Plants will also help to remove the negative vibes and help your home look happy. Plants generally falls under Bohemian style of designing you can get those huge green planters these look super amazing in Nordic homes. 
Black and White Art Pieces
Art Pieces helps your room to look fuller. It makes it cosy and adds a personal touch to it. If you want to add the Nordic vibes to your bedroom, choose your art pieces or painting in the black and white colour. It will help your home look classy. These art pieces are also known as monochromatic frames which looks super amazing on walls of any of your rooms. 
Rug
Just like the cushions, rugs help your home to look cosy. You can place a long rug in soothing colour and place it under your bed. It will make your home interior look better, classy and peaceful. The patterned rugs with ruffles will create a positive impact to your room. 
Furniture designs
Whenever you are choosing the furniture for your bedroom, make sure not to choose bold designs. The Bold designs will harm the Nordic vibes of your room and make it look heavy. Choose it in simple designs and light colours. The right furniture can make a big difference.
Balanced Accessories
No Nordic Bedroom can be completed without the right accessories. Whenever you are choosing the décor or accessories for your room, make sure that they are not too bold. Mix and match them with the old and new. Maintain the colour palette and you are good to go.
Bringing the Nordic Vibes to your Home interior is very simple. You just have to play with décor, furniture and some essential elements. Choosing everything in comforting colours and designs will help your Bedroom to look Fantastic.