Tips for Buying Plus Size Casual Dresses According To Body Shape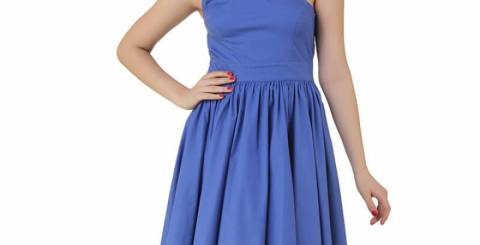 Gone are the days when fashion trends and latest designs were all about slim figured ladies. Now with the gradual change in the time and trends even designers are finding it interesting to work with full figured women. Yes, it's time we rejoice as no set sizes anymore, but don't get too excited. As while we are saying that now you can easily find a perfect plus size casual dress for yourself, it is important that you follow all the essentials as well, which will facilitate in selecting designs which will highlight your curves better.
All in all, we are here today with all the various facts and factors which must be followed while making a dress purchase according to your body shape.
Pear Body Type - With a heavier bottom compared to the top, buying plus size casual dresses for pear shaped figure is more about concentrating on upper body. For example, you must look out for dresses with embellishment on top as that way you will succeed in taking away attention from below and draw eyes towards your slim shoulder and neckline.
Apple Body Type – Commonly also know as round figure, waist is often wider compared to hips and shoulder in this body shape. Thence it's quite important that one focus more on their hips and legs while planning to invest in their women's plus size casual dresses. You can even focus on darker colors as that will assist you in creating an illusion of being slim and will aid in maintaining a proper proportion.
Hourglass Body Type – Well, if hourglass is your body shape, then you definitely have more reasons to rejoice then you can think of. As while this shape speaks of femininity, there is hardly any dress design which will not suit you. Still, to help you get a more accurate dress you must look out for dresses which will help you in concentrating more on your narrow waist. And for the same you can even go with women's plus size casual dresses with a belt on waist.
Rectangular Body Type – Rectangular body type is all about having the limited curve in a woman body. That's the reason when you are out to buy a dress for a rectangular shaped body, make sure you look out for styles which help in creating an illusion of curves. For example you can always look out for A-line dresses, also make sure that you are looking for dresses just above the knees.
Petite Body Type – While you are busy concentrating on basic body type, make sure you are keeping the factor of height in mind as well. For example, you must always avoid dresses which are too large or giving an impression as if they are swallowing you. It's recommended that you must look out for plain design or smaller prints while selecting your plus size casual dresses.
Eliminate the excess - time and again we have tried to explain our readers that excess of anything and everything was bad and will always remain bad. However just to remind you again, while selecting and getting dressed in your women's plus size casual dresses make sure you are staying extra attentive, as even a little extra makeup or additional accessories will destroy the look you were planning to achieve with the assistance of your new purchase.
Now, that we have served you with all the basic facts and essentials, we hope that you will look out for plus size casual dresses which will not just help you look elegant but feel comfortable all day long as well. Moreover with more options available in the market compared to previous years make sure you look out for those styles which will lend a hand in highlighting your curves better.