Tips and Tricks for Visiting Europe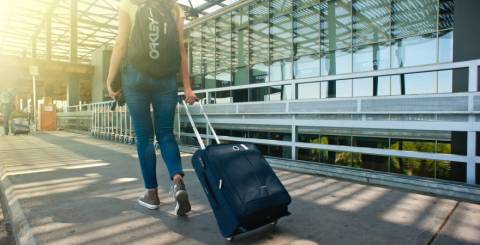 Traveling overseas is one of the most exciting things a person can do. The chance to experience new cultures and see thrilling landmarks is an unexplainable feeling. It is something that has to be done for one's self. One of the most desired places to travel is Europe. It is filled with a rich history and undeniable beauty. For those who have never been, it can be quite overwhelming and seem almost impossible to arrange. Here are eight tips and tricks to help you plan the perfect visit to Europe.
Travel Off-Season
Europe is a popular place to visit with tourists coming and going quite often. Many are only able to travel during the summer, causing there to be large amounts of visitors wherever you go in the region. For those who are taking a gap year or for anyone who has the freedom to take time off whenever consider traveling during the spring and fall months while crowds are much smaller.
Find Flights
Planning your trip well in advance will help you find the best airline prices. If you decide to book a last-minute trip, tickets for going overseas can become quite pricey. Begin researching airlines and flights that interest you well in advance. Different airlines offer different things, so choose which one you would prefer. Also, make sure your airline will reach your final destination as some do not go to every airport.
Take Tours
It can be confusing to maneuver your way throughout a strange city making sure to see everything you want. Scheduling city tours can help make sure you see all that is available. Many of these excursions not only include transportation but a tour guide as well. Established tours can help make your trip stress-free and provide you with fun, interesting information you never knew about the site. 
Check Requirements
Depending on the length of your stay, some countries will require you to have special permits and visas for your trip. It's important to research where you are going to see if this policy relates to you. While each country does not demand a visa, each one will require that you have a lawful passport. This will prove your citizenship and give you valid identification as you travel. 
Make Reservations
While it may seem fun to arrive at your destination and wing it, you should have a place to stay already set up. Some places may be full, or you may find yourself paying high prices if you wait until you get there to book a room. It is also wise to look at places before you go to make sure you are staying somewhere clean, safe, and convenient.
Use the Train
Train systems can be found almost everywhere across Europe. Many rail lines are established throughout the individual countries, but there are several that run between multiple countries. If you wish to visit several places, taking the train is one of your best options to do so. Passes can be bought that allows you unlimited travel during the length of your stay.
Stay Longer
Although it can be fun to hop from place to place each day of your trip, sometimes it is better to stay in one area for a longer period of time. Remaining at one location allows you to see the people and understand how they live. It offers you the chance to become acquainted with the locals, find a favorite little café to visit, or simply gives you time to just relax instead of rushing everywhere.  
Pack Smart
One of the hardest things about taking a trip is knowing what to pack. If you have never been to Europe before, it can be extremely difficult trying to figure out what kind of clothes and accessories you should bring. When packing, bring clothes that are multi-purposeful and shoes that are comfortable. You do not want to overpack and carry extra baggage that you do not need.
While it may seem exhausting to plan a visit to Europe, remember that it doesn't have to be. Applying some of these ideas can help you enjoy the whole experience.