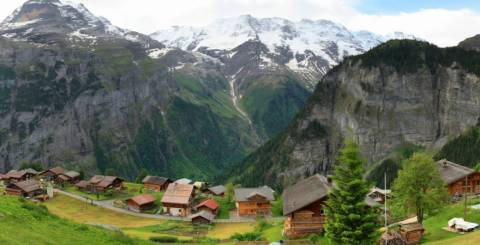 With attractive modern cities and stylish lifestyle, the villages of Switzerland are picturesque and scenic. Riding different lifts to reach the top of the mountain like cogwheel trains, cable cars or steep funiculars is a unique and thrilling venture during all your European tours. Lush highlands, snowcapped mountains, shrilling streams offer breathtaking views, which attract hundreds of tourists every year.
There is a tiny village of Gimmelwald gracefully settled in the heart of Swiss Alps and is a favourite destination for nature lovers and hikers. This little village is a small family whose members live in lovely wooden houses. There are almost two hundred residents in the whole village and the houses are located on the steep highlands. The land is covered with snow in winters and in summers the slopes are covered with lush grass and hundreds of different colorful flowers. In summers, farmers work in the fields, cut grass for their cattle, gather haystacks while in winters they work in ski lifts. This visit will be the most enthralling among all your European tours.
In the downtown, there is a tiny intersection that connects the whole village together. There are small residences for tourists, lovely cafes, and a post house. It is a traffic-free village, which is why people sit around freely. Wooden benches on the steep green lands where smiling sunflowers welcome the visitor early in the mornings. There is a house code in the whole village that people cannot construct multi-storey buildings. Two families live in a single house that is divided vertically from the middle into two while the window panes are either white or green.
Each family keeps less than twenty cows that are kept in barns. The farmers hang bells to ring them in festivals or in summers during the celebrations when cows move merrily from barns towards the steeped and lush meadows. Shrilling and dancing streams fall from the heart of mountains slowly that freeze in the night. These scenic views attract tourists from around the world and that becomes also a thriving industry in the region.
The post office is the only multi-storey building in the whole village. While all the houses and buildings are decorated with floral pots that bloom in summers, thus create rainbows in  windows. The villagers work laboriously to fulfill their necessities, it is very much difficult for them to carry heavy loads on their backs and climb above to their residences.
There is a small school, opened in a single room having nearly twenty students. The classroom is well equipped with audio-visual aids. Computers are provided to every student while a couple serves the school as teachers. The teachers make sure to teach different languages, for example, English, Spanish, and French as well as other activities are conducted so that children could read and write effectively. The whole classroom is just like a small family and all the all the students play together during their recess. They go for hiking and other activities are also held there. Moreover, firefighting drills are also conducted regularly for the safety of children. Some parents also participate in the activities regularly.  
It would be a nice experience if you hike towards the most beautiful skiing resort called Schilthorn. There is a very fine path goes with a proper signpost, welcoming atmosphere, cool breeze, wild smiling flowers and ringing bells of cattle will hold your feet. Stay there for a while to absorb all the beauty of nature in your senses.
You may find different small restaurants throughout your way, which serve warm and delightful meals and drinks. After reaching Schilthorn, don't forget to have luncheon at the revolving restaurant as it rotates 360 degrees and offers you picturesque views of Swiss Alps. So, try this wonderful trip this summer.