Start Your Bryce Tour In Las Vegas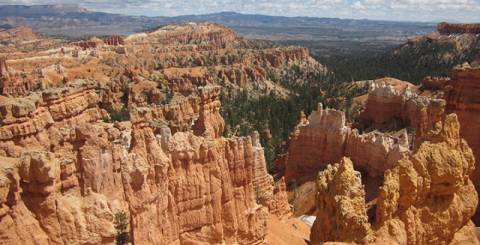 Each year, thousands of tourists who would like to experience the beauty of Bryce Canyon as well as other national parks in the American southwest begin planning their trips, and each year thousands of them abandon these plans when they realize the difficulties that they are going to encounter in order to ge to the parks.  Because national parks are protected areas that are generally situated in isolated locations far from civilization, there is going to be a certain amount of travel time which is expected on any trip. You are going to need to drive to these areas, or be driven there as part of a tour due to the fact that there are no airports allowed to be within a specific distance to any park.  Even if you were lucky enough to be able to find an airport close enough to be manageable, you would not find many choices as far as hotels or entertainment in these remote areas and small cities.  This is why savvy tourists realize that in order to tour Bryce Canyon, it is best to fly into Las Vegas as the starting point of your trip.
Bryce Canyon is located roughly 270 miles from both Las Vegas and Salt Lake City, and will take about four hours of driving time from either city in order to reach the outer perimeter of the park.  Most people would rather avoid a four hour trip before they even begin their day of exploration, and definitely do not look forward to the four hour drive back to the starting point after hiking and exploring all day.  This is why there are several specialized Bryce tour companies in Las Vegas that will arrange your entire excursion to the park, transport you in comfort from your hotel room and make sure that you do not miss any key sights once you are there.  The majority of these operators will offer the Bryce tours as part of a larger package that includes several other parks, usually Zion and the Grand Canyon being among them.  This is because the length of the trip makes it more beneficial to stay overnight in one of the locations then proceed to another park that is within a few hours drive as opposed to going back to the starting point.  These "round trip" tours will attempt to provide a unique experience for adventure travelers by giving them several different parks to experience.
Why Las Vegas? In a nutshell, Las Vegas is a tourist location that is specifically set up to cater to the needs of tourists.  Flights from your home into the Las Vegas airport will be less expensive and more plentiful, as will the choices in hotel rooms and restaurants.  Entertainment choices are far greater in Las Vegas over Salt Lake City as well.  When comparing the two nearest cities as far as which is a better place to vacation, Las Vegas simply has more to do.  This is why so many tourists will plan their Bryce tour as part of a bigger vacation to Las Vegas, planning a few days before or after the national parks tours to enjoy the offerings of the city.  It is always best to arrange your trip around the suggestions of the tour company, as they will know the best times to visit the park.  There may be times of year when tours are not offered, as weather is too extreme for most travelers to enjoy it.  Check with your tour operator of choice to make sure the dates you are desiring are available and not booked.  Las Vegas is a popular destination, and Bryce tours from Las Vegas fill up fast.