Is Rattan Garden Furniture A Good Investment?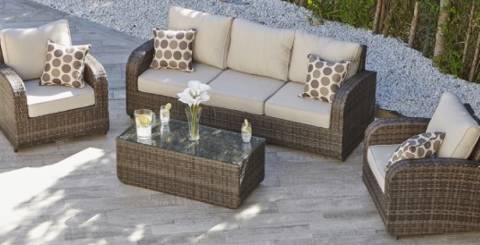 Over the past few decades, rattan garden furniture has gone from relatively popular to almost ubiquitous across gardens and outdoor areas in western society. The material's unique combination of visual appeal with characteristics such as durability, sturdiness and weather resistance earned it a place near and dear to the heart of many western home-owners, and rattan garden furniture became more popular than ever as a result.
Popular though it is, however, many customers are still uncertain about whether rattan garden furniture really is a good investment. The prohibitive prices certain rattan garden furniture sets can command make home-owners extremely wary when it comes to investing their money, and many want to make sure the outdoor furniture set they have their eye on will provide good value for money. Mileage on this subject tends to vary from customer to customer, but the lines below seek to offer a balanced and unbiased perspective on some of the factors surrounding this question.
Attractive, Durable and Resistant
The main arguments usually made in favour of rattan garden furniture have to do with its attractive appearance, durability and resistance to atmospheric conditions and other external factors. These are all actual, proven assets of these types of items, and most home-owners base their decision to purchase a rattan garden furniture set on one or more of them.
Rattan garden furniture is, for instance, versatile enough to look good when inserted into any garden, regardless of aesthetic, and in the case of a good quality set, visual impact alone may justify the investment. Slightly more demanding customers will, however, be happy to know that aside from looking good in their back garden or patio, these sets also tend to be extremely durable, provided they are of a good enough build quality to withstand normal wear and tear as a result of use. In addition, they tend to be specially treated to ensure weather resistance, usually by means of a special resin applied to the synthetic polymer which makes up each item.
With all this in mind, it is easy to prove that the main claims usually made about rattan garden furniture are true; this material is, indeed, durable, versatile, attractive and resistant. By themselves, these factors might make a good case for this type of furniture being a good investment; however, it is also important to consider certain other aspects before making a decision. These are analysed in the paragraphs below.
Price vs Use
While, as shown elsewhere in this article, rattan garden furniture scores points for its versatility and build quality, it is also important to consider how much use will be made of the furniture prior to buying it. Assessed in a vacuum, a rattan set can definitely be considered a good investment; however, home-owners are well aware of how much one of these sets can set them back, so many of them throw the amount of use they will give the items into the equation.
Simply put, certain climates are more conducive to giving a rattan garden furniture set extensive use than others. While the material is, as noted, resistant to most types of weather, it will obviously not see as much use in an area with heavy or frequent rain as in a dry, warm part of the world. Most home-owners from less temperate areas are willing to take the chance and make the investment for the few weeks' enjoyment they will derive from their furniture, but this can certainly be a game-changing factor, particularly if the prospective buyer is on a budget.
All in all, then, there is no right or wrong answer as to whether or not a rattan garden furniture set constitutes a good investment; such an assessment depends on a series of variables which will obviously change from one situation to the next. Hopefully, however, this article was useful in pointing out some of the aspects to take into account when considering investing in a rattan furniture set.