Raccoon Removal is the Most Humane Solution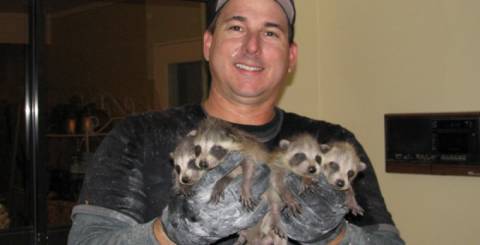 Phoenix Pest Management & Wildlife Control
Raccoons are very cute, but they can cause a lot of damage to a home or business. They can also be very dangerous and have been known to kill chickens and attack cats and kittens. It is not uncommon for raccoons to tear holes in roofs to get access to an attic or to go through garbage cans and leave the trash strewn behind them. If you have raccoons making a mess, tearing up your garden, or nesting inside your home, then you need some solutions, fast. The best way to get rid of raccoons is by using traps and relocating the animals to a different area if your local laws allow it.
Avoid Attracting More Raccoons
Leaving pet food outside can attract raccoons. If you must feed your pet outdoors, be sure to pick up the food as soon as they are finished eating. You should also avoid leaving your garbage cans out overnight, and put them out on the morning they will be picked up. There is a lot of information about chemicals you can use to keep them away, and you'll find stores that sell different repellents, but none of these products really work.
Find the Right Trap
A simple cage trap is a humane way to catch a raccoon for relocation. You can purchase lethal traps but these are not legal in all states and are not a humane way of dealing with the animals. Place the trap in an area where the raccoons will find it, put food in it, and make sure the raccoons cannot remove the food without activating the trap.
If you decide to trap them yourself, do your research first to see if your local laws allow relocation. Many cities do not, because of the risk of spreading rabies and distemper, which many raccoons carry.
Avoid Using Poison
Using poison might seem like a more affordable alternative to using a trap, but it's not a humane way to get rid of raccoons and it is a potentially dangerous method if you have a pet or young children.
Call a Professional
It is usually best to have a professional help you deal with a raccoon problem. They will know what kind of trap to use and they'll know where to safely relocate the animals. Hiring a professional who has experience with raccoon removal is not much more expensive than purchasing a trap, and it is a quicker way to get rid of raccoons.
Seal Entry Points
Raccoons can gain access to your home via small entry points. There might be holes in your roof or a way to get into your basement they you aren't even aware of. Raccoons are very intelligent and they can quickly pull back fascia, chimney flashing, or any loose spot that will allow them access. You should carefully inspect the outside of your home and seal any visible entry points.
The best way to get rid of a raccoon problem is to call a pest control expert in your area. Look for someone who has experience with raccoons. You should call a few different animal removal services to ask about the methods they use and to find out how the raccoons will be relocated. Calling a professional is your best option since poisoning raccoons is not a safe way to get rid of them, and using a trap is not easy if you have never done it before. You will get results much faster and will not have to worry about your raccoon problem anymore.
You can get more information about raccoons and their habits from the National Wildlife Association.