The Pros & Cons to Traveling with Pets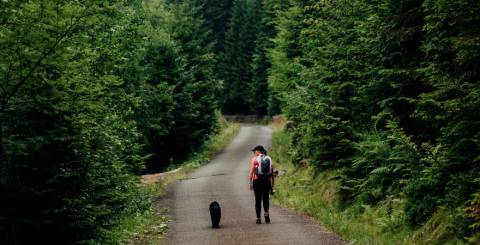 When You Just Can't Leave Them Behind
Planning ahead is necessary whether you travel for business or for pleasure - or a little of both. When you have animal companions to worry about, the planning gets slightly more complicated. Despite any extra preparation or expense, sometimes leaving your four-legged friends at home just is not an option. Here are a few things to keep in mind so that you can keep things rolling smoothly.
Know Your Surroundings
Whether you are trekking to unfamiliar territory or visiting your family for the holidays, it is wise to be aware of places that will be friendly to your pet. Many shops are becoming more open to allowing animals into their locations, but there may be restrictions. Look online ahead of time and map out lists of merchants and services that will welcome your entire entourage. You may be pleasantly surprised to find hotels, restaurants and coffee shops that not only allow pets but treat them as guests too.
 What could be a more fun addition to your journey than having an ice cream cone with your dog, or a tuna fish sandwich with your cat? While you are at it, keep in mind that you will need to allow for "potty breaks". Since most animals are not trained to use the same facilities as humans, you will need to identify appropriate pull-off areas so that your pets can take care of business.
Equip Your Luggage
We love our pets. They give us unconditional love and laughs, and we give them the same in return. Unfortunately, they can also be unpredictable, and at the absolute worst moments. For example, your pup may not be so keen on the motion of traveling. The peril of taking him with you could become most evident when you find yourself trapped in a car with a dog vomiting yellow goo in your car halfway through your trip. Make sure you have a ready supply of clean up items such as paper towels, lint-free cloths, upholstery spray or stain remover and empty plastic bags for disposal. As a general rule, you should also be carrying a hand sanitizer in case you are unable to properly wash for a bit. 
If you are able, another item to keep at hand that may save you and your canine or feline companion some trouble is specialized medication made just for dogs and cats. They can ease their nausea for most of your trip and are relatively inexpensive. It may not completely prevent them from getting sick, but it can help to make them more comfortable. These remedies can be easily obtained from a veterinarian or from a pet supply store.  
Comfort Is Key
Animals need their creature comforts too. Some are basic, and some are extra efforts to make things extra pleasant. Temperature is a consideration when they are going to be in an enclosed space for any length of time, so be sure to keep the internal climate set to the appropriate level for the season. Add some extra layers of cushion to your pet's car seat or carrier so that they do not feel so many of the bumps in the road.
You will also want to have fresh water, food and even favorite treats available so that you might avoid a rebellion in the backseat. For an added special touch, bring along some familiar toys or items from home so that he or she has a soothing reminder of their routine. This will not only calm your pet, but it will also keep them busy for some of the trip so that they are less likely to get bored or frightened.
Communicate Often
If the travel method used means that your little darling won't be able to see you, try to talk to them as often as possible. Just like children, domestic animals need to know that they are not alone and that they are going to be kept safe. Hearing your voice and seeing your face when possible can help them to stay quiet and happy. If you find travel stressful, you will also benefit from these brief reunions.