Patient engagement: Top 5 Strategies & Benefits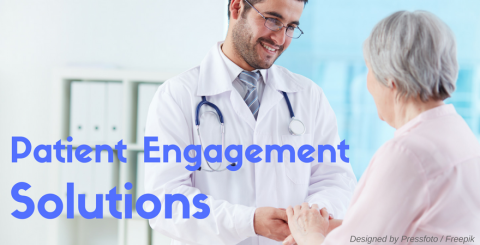 The importance of patient engagement is being discussed in every facet of healthcare.  Care management teams are proactively putting efforts to engage with their patients on a constant basis. An effectively engaged patient does not only help in better health outcomes but it also helps in reducing the overall healthcare cost.  No doubt that an engaged and satisfied patient is a key in the implementation of value-based care.
However, the definition of patient engagement is not only about an interface for patients to log in (Medical patient engagement portal or patient engagement mobile app), we can not gauge the success of patient engagement program by the number of clicks or by the number of patient's login. Then what is patient engagement? In a real sense, engaging patients can only be considered successful if patients are also contributing in the decision-making process of their own healthcare process.  Hence, it is really important that care management teams and healthcare providers should establish channels for patients that are easy to use by patients and should encourage patients to contribute actively in their healthcare process. 
Patient engagement strategies-
Mobile Apps: Recent studies have shown that close to 60% of adults in the USA use smartphones and more than 50% Smartphone users have already used their Smartphone in managing their health. Clearly, Mobile apps can play a vital role in actual patient engagement, people are more likely to participate in their healthcare process if they can have an interface on their Smartphone, and thus patient engagement mobile apps are very important to have by care management teams.   

IoT Enabled Interface: Internet of Things has attracted many Smartphone owners in managing their healthcare with their smart devices. There is a stream of mobile apps which are leveraging the concept of IoT & wearable devices. With wearable devices, the patient can track their own health data and since they can see their own health data and progress; patients feel more involved and more likely to participate in their healthcare process.     

Health Alerts & Notifications: With technology, care management team can have the access of patient data in real time and technology also helps care managers to send alerts and notifications to patients almost instantly, in some cases alerts & notifications can be automated as well. Instant alerts on real-time data make more sense to patients and patients feel that they are being cared by their care team in a better way.    

Social Media: Social media presence is key for health care organizations, people like to stay updated via social media these days and with social media presence (like FB page) Hospital and relevant organizations can automatically be in front of people who are following them on social media channel. Social Media can be utilized for doing a survey or in circulating important news healthcare information. 

Educational Campaigns: The primary aim of any patient engagement portal or mobile app has to be engaging patients actively and educating patients about their health can obviously attract the attention of patients in a positive way. Patients are more likely to log into their patient engagement portal or mobile app in a hope of learning something new about healthcare.   
Benefits of Patient Engagement- 
Comprehensive Patient satisfaction: The ultimate aim of any provider is patient satisfaction and this includes quality of care, health outcomes, the speed of recovery, cost involved etc. Recent studies have shown that if a patient can be engaged in healthcare process; the degree of patient satisfaction is higher.  

Real Time data & Reduction in Healthcare Errors: Technology has also helped in the availability of real-time health data of patients and with higher accuracy tools, the health data available is more accurate than ever. Technology has also provided the analytical tools; all these have a combined positive effect in a reduction in overall healthcare errors.

Reduction in Readmission Penalty: Patient engagement is not only beneficial for patients but it also helps providers; with proper implementation and execution of patient engagement tools; providers can reduce the readmission fee, as the chances of patients being treated properly are higher with the use of patient engagement tools.

Enabling value based contracts: Healthcare industry is shifting its focus from fee for service to value-based care model, with patient engagement tools it is easier for providers to enable value-based care and promote lower healthcare costs and better health outcomes.  

Population Health: Patient engagement tools contribute to the objective of population health as well. With these tools, it's easier to analyze the health outcomes of a group of patients and formulate policies and care plan accordingly.
Amid all the benefits of patient engagement tools, these tools which are often powered by technology have also increased the risk of data breach and cyber security. Healthcare industry is already very sensitive to these threats; hence it is necessary to implement an extra layer of security before implementing patient engagement tools. Importance & necessity of patient engagement can not be ruled out because of associated threats but what is required is to take necessary actions to protect healthcare industry from these risks. Effective patient engagement is good for complete healthcare ecosystem.