Neons For The Home, Tack-Tastic Or Fantastic?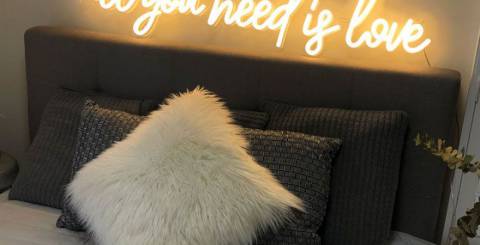 https://customneon.com/all-you-need-love/
Interior home decor is one of the areas in our homes that seem to divide opinion. Different people have different tastes and this at times can boil down to a division of the family. This is what makes interior design one of the most interesting segments of the home and appliances market.
Traditionally, people use antiques, wallpapers, ceramics and natural products like plants and flowers to improve their home decor. However, new technologies have emerged, and they appear to be taking the interior design market by storm. The smart home concept has played a big part in this. Now we have smart curtains, smart faucets, and several home appliances that are intelligently built for the modern home decor.
However, improving your home decor can take many forms. While commonly used in clubs and tattoo parlors for branding purposes, neon signs are increasingly becoming popular in home decor. 
Using neon signs for indoors decoration
Ideally, the type of signs that you would see hanging at the entrance of night clubs or tattoo windows would not be perfect for interior home decor. Simple and more warming images and phrases tend to create the perfect ambiance for indoors decoration. Here we look at three ways that neon signs can be used for interior home decor.
Use inspirational words to create a good ambiance
For instance, spelling out words that inspire a thoughtful process could be perfect for your home office while the bedroom would be perfect with calming or affectionate words lit modestly with the colors of nature.
As demonstrated in the featured image, neon signs for the home can be charming as well thereby helping to create an atmosphere that befits the occasion and place. This clearly shows how a person can experiment with different words to create a warming ambiance at home.
Decorate existing items with neon lighting
Neon lights can also be creatively used to decorate existing items. A practical example, in this case, would be using neon lights around the frame of decorative art or photograph on a wall to improve illumination thereby attracting the attention of your visiting guests. These lights would need to be modestly lit to prevent them from obscuring the natural appearance of the wall art.
One can also use colored lighting to illuminate the undersides of furniture and fittings thereby eliminating dullness in the room with a flashy feeling. For instance, the underside of the seating room table, the interior sections of a bookshelf or an entertainment unit. These are just but a few examples where neon signs can be used to illuminate home furniture and fittings.
Customize a room to create an imaginary realm 
Another concept that one can use to decorate the home with neon signs is creating a completely out of this world space. If you are an armature astronomer, you could decorate a designated room in your house so that when you are inside it with the neon lights on, it feels like you just stepped into the galactic realm.
Video gamers can also use the same concept to fully transform their video gaming room so that interior structure represents their most favorite games and characters.
Conclusion
In summary, neon signs for the home can be an intriguing concept for those that like to tweak the interior design of their homes often. Neons can be used to express emotions by creating an atmosphere that befits the bedroom, a recreational/entertainment room or the lounge at home.
Therefore, while to some this idea might sound a little bit hyper, the bottom line is that neon signs can be fantastic at customizing the home. Every room, including the children's rooms, can be fitted with the right neon signs to promote good ambiance.