Multilayer Floors Are the Future!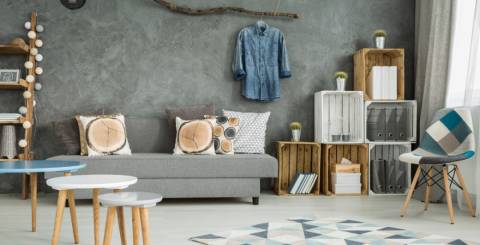 Humans have used wood as a flooring material since the dawn of time. Wood has never gone out of fashion, never been undesired, old or outdated. On the contrary, it has always been considered attractive, stylish and trendy. In the last decade, though, the market has been somewhat stagnant for more than one reason.  This can be partly attributed to the introduction of several "alternative" types of flooring which have emerged in the not so recent past. Some, like bamboo (it's a grass, not wood) became hugely popular for a short period of time before going into obscurity.
Truth is that hardwood is still the king when it comes to flooring and people have finally realized it! In 2015, the sales for parquet and wooden floors have increased by 2.2% in the top 11 European countries. The number may seem small but the overall profit has reached 82.7 million m2. A study has predicted annual growth of 2% in volume by 2019. The growth in the UK alone it is estimated to be around +4.8%.
Will the Price of Wooden Floors Increase?
Whenever something sales well, it is expected that the prices will increase accordingly to bring even bigger revenue. Such is the nature of capitalism. However, there is more to it. The increased influence of Eastern European and Asian manufacturers will have a certain impact and the increased competition probably won't allow the prices to rise much more than the current level. Hopefully. This, however, is not the only factor that has to be taken into consideration.
Environmental Concerns and Installation Costs
People are beginning to care what kind of wood is used for their hardwood floors. Where does it come from, was it cut responsibly without hurting the environment? There are certain certificates like the Forest Stewardship Council (FSC) which can verify the truth of such statements. The acquisition of such certificates, as you can imagine, means keeping up with certain standards which would probably be reflected in the price of the final product...
In the end, expect the prices for wood flooring to go up. Naturally, with the change in pricing some people will be turned off by the prospect of paying more and turn to alternative flooring options. The most probable candidate seems to be vinyl. Cheaper than hardwood, durable and completely waterproof it is very suitable for high humidity areas like bathrooms. Unfortunately, it is a product which only mimics real wood with an image printed on top, manufacturing process which is not really environmentally friendly and the fact it cannot be refinished.
What Will Be Most Sought After in This New Situation?
We have to make a distinction between solid hardwood, multilayer floors, and engineered wooden flooring. Solid hardwood has much thicker wear layer of around 22mm while multilayer hardwood only gravitates around 4mm-6mm. The most popular types of solid wood right now are oak which is around 70 % in popularity with beech, ash and some exotic wood species following.
Engineered and multilayer floors are very similar yet slightly different. Multilayer flooring has a thicker veneer which allows it to be sanded more often than engineered (3-4 times) but lacks its overall strength and stability. It is best described as the middle ground between solid and engineered flooring.
Multilayer parquet floors are getting a staggering 83.9% market share in volume which makes them the most desired type of wooden floor by far. Since 2010 multilayer floor prices have actually dropped slightly because of the fierce competition. Maybe this is about to change now with the huge demand?
If you compare the prices of the most popular multilayer floor to the most in-demand solid wood option, you'll find that the latter is actually a bit more expensive despite the fact that solid wood has only around 13.5% market share last year.
What Makes Multilayer Parquets Popular?
For starters, since parquetry became popular among the French nobility around the 17-th century, it has always been considered a stylish flooring choice. After all, if it is good enough for nobles what would make it bad for the rest of us? Price maybe? Actually, that's not an issue!
Parquets, multilayer or not, bring all the benefits of solid hardwood – mostly in appearance and ease of maintenance while also being cheaper.
Multilayer parquet consists of two or three layers glued together under the angle of 90 degrees. The top layer of the multilayer parquet is made of hardwood, and the other layers, found beneath the top layer, are also 100% made of wood. In addition to this, multilayer floors share most of the pros of engineered floors. As a whole, they are more resistant to changes in temperature, less prone to warping or bowing and capable of withstanding moisture better than solid wood. The trade-off is the fact that solid wood can be refinished multiple times while multilayer floors are rather limited in this regard.