The Most Beautiful Wedding Flower Arrangements & Creative Celebration Ideas
Flowers are beautiful. They have been used in marriages for many centuries as a way of showing admiration and well wishes to everyone. Flowers and plants were also used to make a crown for the bride and bridesmaids. They were considered a gift of nature and symbol of love. You must have seen Bridesmaids holding bridal bouquets, garlands, and boutonniere. Besides, wedding flowers are also used as the poesies to given to each guest as a symbol of thanks. Even in the 21st century, the flowers and their significance have stayed the same. Though, they have lost their importance in some cultures. But, a wedding ceremony is incomplete without a beautiful floral decoration. With the right usage of flowers, an ordinary place can be turned out into an exotic wedding place.
The bridal bouquet was made from wreaths worn around the heads of both the bride and groom. The garland was considered as a symbol of love & happiness. The bridal bouquet and the crowns were made of different flowers & leaves. Different flowers have different meanings. Small flower - nosegays were also kept beside every plate of the guests in presence at the dinner. Let's find more about popular wedding flower arrangement:
1. Bridal Bouquet
Flowers serve to make your wedding more colorful, memorable, and vibrant. But, there is no particular floral arrangement which is as individually special on weddings as the bridal bouquet itself. The wedding bouquet symbolizes the good luck and prosperity of the bride.
But, how will choose the right bridal bouquet for your wedding; let's find out:
Pick the Wedding Dress First
Since the bridal bouquet should match the wedding gown of bride's, it is always recommended to finalize your dress first. The final color, design and other aspects of floral bouquet will depend on the color and style of your wedding gown. So, when you contact the online florist, don't forget to share the pictures of your dress or choose the bouquet that matches well with your dress.
Consider the Shape and Size of Your Bouquet
The bridal bouquet needs to emphasize the wedding dress, not cover it. Most brides choose the large bouquets. Nevertheless, if there is a beautiful detail work on your wedding gown, a large bouquet will cover it and diminish the purpose of carrying such a well-designed gown. You should also prefer something smaller and more dramatic, to give your wedding bouquet the wow factor you're wondering for.
Color Coordination
When it comes to choosing floral arrangements, color coordination is an important aspect that must be considered. For instance, whites & creams can be difficult to harmonize. It's vital to discuss the color with the florist while choosing the color scheme of your wedding bouquet.
Personalize Your Bouquet
The bridal bouquet is an important part of your wedding, and it must reveal your own style, tastes, and attitude. If there are some specific flowers that you prefer, coordinate with your florist to include them into the design of your bouquet's design. Apart from the traditional history of the bridal bouquet, it focuses attention on the natural beauty of a bride on her special day. Personalizing the best bridal bouquet is not difficult, but it takes time. Discuss all the wedding planning stages with the florist and get a customized bouquet that best matches your preferences.
2. Wedding Corsages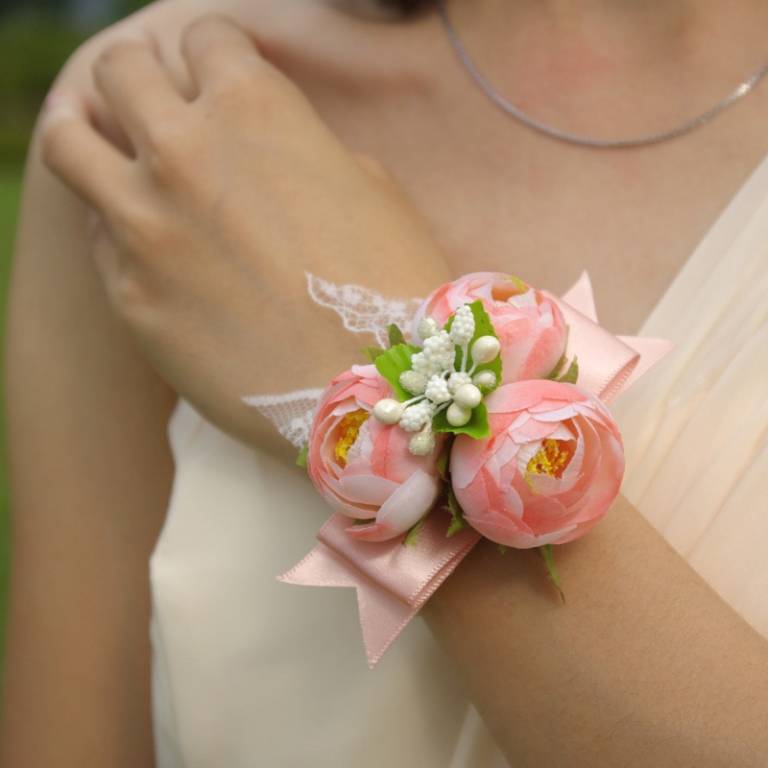 Once you have made all the flower arrangement decisions for your wedding day, it is time to choose corsages for your special guests. Corsages are worn by mothers, grandmothers, and godmothers in weddings. Some families also prefer corsages for special guests at the ceremony. Most of the people forget about one of the most common and classic traditional parts: the corsage and boutonniere. For those who are choosing corsages the first time, the process would be a little confusing. What color should you pick? And, when should you get it? Let's find out:
Determine a color scheme:
Ask your partner if she has any preferred colors, and finalize a few colors you both love to design your outfits around. With this consideration, you can find a corsage that will perfectly fit your outfits. You may also pick a color scheme according to the seasons.
Choose Flowers:
Some of the most preferred corsage flowers are rose and carnation. Most brides also choose a mixed flowers which are consistent with their wedding blossoms. Another way is to match the corsage flowers to the attire that grandmothers and mothers are wearing.
Orchid
White Rose
Pink Gerbera Daisy
Purple Dendrobium
Purple Phalaenopsis Orchid
Once you have chosen the flowers for your corsages, you need to finalize coordinating boutonnieres for fathers and grandfathers. Grooms can choose a boutonniere that matches the color or style of the bridal bouquet. Rose and calla lily the widely-preferred choice for corsages. You can try a small bunch of greenery for a rustic wedding.
3. Wedding Table Arrangements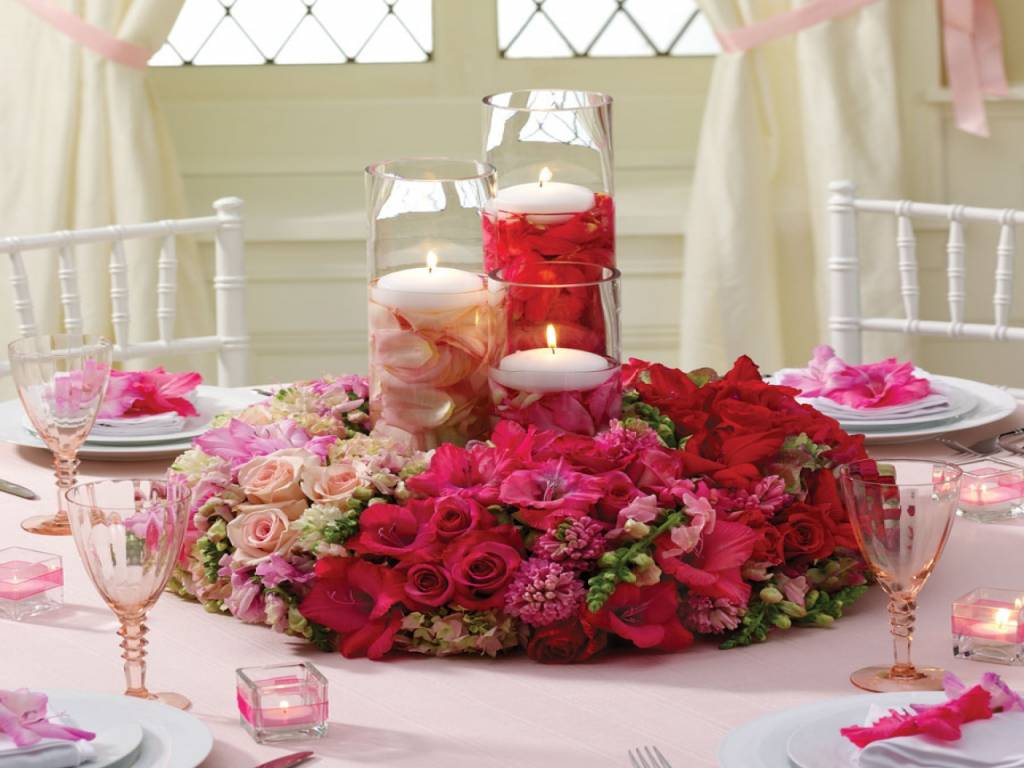 Apart from floral bouquets and boutonnieres, Flowers are also used to make centerpieces. It is a decorative piece that adds extras decorations to any ordinary room, hall, party, and boring wedding setting. A dinner decoration is incomplete without a centerpiece made of colorful flowers. Whether it's an anniversary celebration or a well-arranged destination wedding, the centerpiece is something that needs to be arranged well. You need to consider several important things when choosing flower centerpieces for your wedding, such as:
Finalize Your Budget
Once you know how many tables do you need at your wedding venue including reception, buffet and decorative tables, you can figure out how many centerpieces you will require. You can find a large number of table arrangements online, choose the right one as per your budget and needs.
Venue Restrictions
It's vital to see your venue's rules and regulations before making any big decision regarding centerpieces. Most hotels & facilities have restrictions on breakable glass or specific allergens. Checking for these limits earlier will counter the last minute blunder from happening. Some places also have regulations about who can set up and clean up. You must keep in mind all those rules while choosing centerpieces and table arrangements.
Table Shape
The shape of the table should be another significant thing that you must consider while deciding on centerpieces. If your venue has roundtables, you must choose round centerpieces that will look wonderful. Round or square centerpieces look perfect with the square tables. When you choose oval or rectangular tables, you get more space to play with. If you pick bouquets of different heights, you will have an aesthetically pleasing effect while having more room to play with color and shape. For the buffet or reception tables, you can go with the taller floral arrangements.
Lighting
The lighting of the wedding area should also be considered while designing the centerpieces. If the place is dimly lit, you should prefer adding candles with flowers. For inadequately lit areas, you need color. But, it's recommended to go with deeper shades or jewel tones than pastels. A pale pastel or white with a few brightly colored flowers will look marvelous.
4. The Most Beautiful Wedding Flowers
Just, imagine yourself walking through a splendid garden with every bloom at its peak. Which one will you choose for your wedding? The colorful? The most common? The rarest? If you are getting confused choosing the best flowers from the wide range of varieties available, check out some of the best wedding flowers listed below:
Rose
Who doesn't admire Rose? It is known as a symbol of beauty and love; associated with many myths and fairy tales. Famous authors and poets have adopted the flower as a representative of beauty, passion,  emotion, and true love. When it comes to classic wedding settings, rose is the most popular option, Available in different colors and bicolor varieties; a centerpiece and bouquet made of roses can completely change the feel of any place.
Tulip
Tulip is a meaningful wedding choice that represents "happy years" and "consuming love". It is available in a comprehensive range of colors such as white, cream, pink, peach, yellow, magenta, purple, and red. Available throughout the year, you can find tulips at a very affordable, price. The versatile tulip can intensify casual venues and any type of wedding settings. Tulips are widely used to create bouquets, boutonnieres, and table arrangements.
Lily
Lily signifies elegance and magnificent beauty, making it an ideal flower for floral wedding arrangements. It comes with a smooth stem and in bright colors, the tulip is suitable for presentation-style bouquets and tall arrangements. Its miniature version is perfect for boutonnieres and nosegays. Lilies are also available in orange, mauve-pink, yellow, and dark purple.
Hydrangeas
Available in bright colors of pink, blue, green, burgundy, and purple; hydrangea represents "vanity" in the language of flowers. With a long stem and big bushy head; Hydrangeas is another popular option used to make wedding flower arrangements and bouquets.
Peony
The peony comes with a large full head which makes it more beautiful and unique. A bouquet made of peonies look gorgeous and perfect for weddings. Peonies are also widely used to make wonderful centerpieces and arrangements.
5. Creative Ideas that can Make Your Wedding More Special
Your marriage should be as special as you are. A wedding day is a festival of two individuals choosing to commit to each other. It's the conclusion of months of planning, hopes, and ideas. That's why it's so essential that you have the wedding which is unique and fun. So, the wedding is an essential part of everyone's life. Most brides and grooms strongly desire an amazingly decorated wedding ceremony. We have listed some of the creative wedding decoration ideas that you should consider. Let's have a look:
A DIY Flower Station
Let your guests feel that it's not just the wedding party which is special to you by making everyone look great with their own boutonniere or corsage. Ask your wedding planner or florist to set up flower station and use some sturdy blooms such as mums or spray roses.
A Luxe Reception Lounge
You must give your guests a comfortable place to rest between dance breaks by making a lounge area at your wedding destination. You can decorate this space with a different type of flowers. Don't forget to fill the area with chairs, couches and plenty of cushions to sink into. It's an ideal way to keep everyone involved the party even when they're relaxing. Besides, you can hide the space with curtains to make a VIP vibe.
6. Guest Transportation
If you're wondering to shuttle your guests from hotels to the reception, don't forget to make the journey fun by engaging some cool mass transportation. You can choose hot air balloon ride and take your wedding transportation to a new level. Or, if it suits your wedding style and budget, you can make it more innovative with some yellow school buses; sounds strange works perfectly. Don't forget to decorate the buses with flowers.  And for additional flair, personalize the ride by playing fun music or adding a sign that shows, " Keisha and Harris's wedding".
7. A First-Dance Confetti Drop
You & your partner's first dance should be one of the highlights of your wedding. So, you must add a special touch to boost the entertainment factor. If you are going to dance on a slow and romantic song, then have fresh flower petals rather than confetti fell from the ceiling. Your wedding planner and local florist can work together to let this happen.
Upgraded Welcome Bags
Make your friends, relatives, and other guests feel like VIPs with creative welcome bags with a red rose. Customize tote bags is another ideal welcome gift for the guests. Also, add a person "Welcome!" note for your guests.
A Decked-Out Entryway
You don't need to spend a huge amount of money on an expensive Entryway. Simply, decorate your entrance with some fresh flowers. You can keep perfectly-designed flower arrangements to the escort card table to make a modern seating chart display.
A Show-Stopping Ceremony Exit
If you do it right, your function exit will be one of the most amazingly photographed moments of your wedding. You can jazz up the exit by passing out the rose petals, birdseed, colorful confetti, beach balls, and lavender buds for every person to toss your way.
Hang Your Flowers
If you want to create an intimate space for your guest, then you can hang flowers a few feet above the dinner plates. It is a unique idea that will make your wedding look more creative and beautiful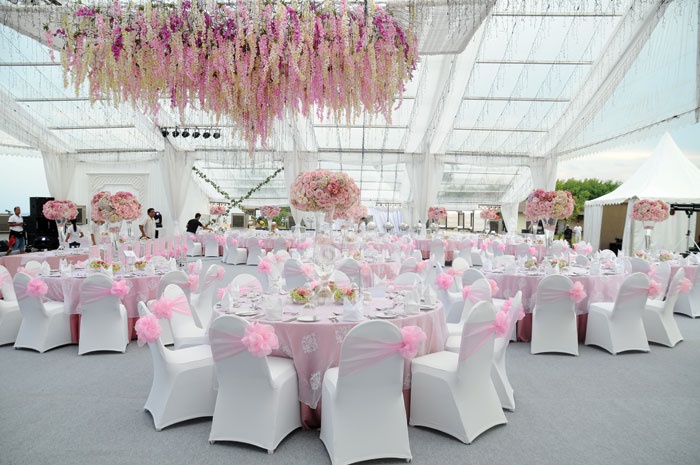 Use Table Lamps
Enhance the beauty of your weddings by placing reception table lamps. You can also use flowers or greenery together to hide cords and make the tables look more pleasant.
Rent Colored Glassware
If you are placing centerpieces in your theme-based wedding, then you can also use colored glassware to make your tables pop and look extraordinary. Fresh flowers kept in a simple vase always look beautiful and go well with your wedding tables.
When it comes to choosing creative weddings idea, there are no limits. You can celebrate your wedding and decorate the place in different ways. And, flowers can add a wow factor to it. Always choose the fresh flowers and book the flowers online in advance. Make sure the online florist deliver the flowers to your wedding destination.
Enjoy the Wedding
There are a lot of considerations that must be taken into account while choosing flowers for your upcoming wedding. In the end, you need to make sure that everything coordinates and suits your theme or wedding style. So, don't get too mad about restricting yourself, just decorate the place with fresh flowers and have fun.
Hope this article will help you pick the best flower arrangements and celebrate your wedding in the best way possible. Today, most people prefer ordering flower bouquets online and getting delivered it to their doorstep.