Modular Kitchen V/S Carpenter Made Kitchen, Find Out Which One Is Better?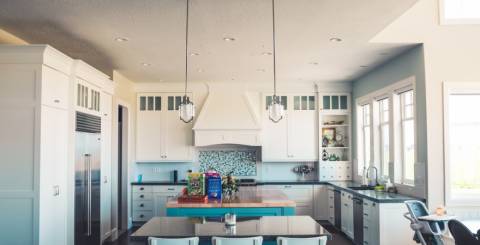 The kitchen is the most used and less focused part of the home. Even if they fulfilling so many requirements of our daily life, we don't get time to give proper attention to its style and design. However, it also requires as much attention as any other room of your house needs. So whenever you are planning to renovate your home, make sure to focus on kitchen improvement. Kitchens are an important part of our home design and we must not forget about it. 
 Now the question comes, which kind of Kitchen will suit your house? So there are two types of significant kitchen designs that are preferred in today's time- Modular Kitchen and Carpenter Made Kitchen. In this blog, we will tell you which out of both will be perfect for you and how they are different so that you can make a wiser choice. Each home has a story to say and kitchens are one of the most integral parts of any of the home interiors and hence it's essential to look at every space of your home and decide what will be the best.
Modular Kitchen
Modular Kitchen is a pre-manufactured kitchen that comes with cabinets and accessories and just required to be installed in the kitchen space. In short, these are ready-to-install and can be transported from one place to others easily. You will find many different tall units, storage units, drawers, and shelves in them. These are flexible, and you can mostly find them in the L-Shape, U-Shape, Parallel, and Gallery design.
Pros:
Modular Kitchens are professionally designed and can be easily customized as per the homeowner. These are highly functional and easy to maintain. Even the home designer will share the 3D view of modular kitchen designs so that you can quickly determine which one is fine for you.
Modular Kitchen has a sleek and modern design that will combine well with your modular furniture and modular décor.
Homeowners can quickly get the modular kitchen shifted from one location to other.
These have a flawless factory finish.
Most of the designs have transparent pricing, and you can customize each part of it based on your budget.
These Kitchen designs mostly have a neat and clean look and allow you to keep things organized.
Cons:
The Modular Kitchens are more expensive when compared with Carpenter made Kitchens.
If these are designed once, no one can ever make the changes.
Modular Kitchen at a lower price may be made up of lower quality material; So always consider material when choosing this option.
Carpenter Made Kitchens
Carpenter Made Kitchen is entirely built by carpenters and totally handmade. The old-fashioned woodworking manufacturing style is used in it, where the carpenters cut, plane and finish up every part of the cabinet to the shelf on the site.
Pros:
Carpenter Made kitchen allows you to play with finishes, colours, patterns, and countertop material even at the end time.
These are cost-effective and affordable when compared with modular kitchens.
These can be easily altered, and the homeowner can keep a check on the entire building process.
Cons:
The final look of the Counter Made Kitchen will depend on the skills of the carpenters.
The manufacturing and building procedure can be very inconvenient, noisy, messy, and dusty, and can take up to 6 to 8 weeks to get ready.
This type of kitchen is fixed and can't be located from one place to another.
Conclusion
Both Modular Kitchen and Counter Made Kitchen are incredibly different from each other, and you can choose as per your requirements. Also, consider the price and quality you want while selecting. We hope our blog will help you make an informed decision.